No more boundaries.

Put the World's Largest Bookstore on your iPhone.
The official Barnes & Noble Bookstore App lets iPhone and iPod Touch users take the world of books with them, wherever they go. Use your iPhone's camera to search millions of books, DVDs, and CDs and instantly get product details, editorial reviews, and customer ratings; find a store or author event near you; watch videos; and share your interests with other book lovers!
The Barnes & Noble Bookstore App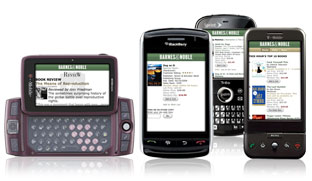 Shop Barnes & Noble on any Mobile Device.
Visit Barnes & Noble anytime, anywhere from any Web-enabled mobile device. Optimized for easy reading and fast navigation on a small screen, B&N Mobile works great with the iPhone®, BlackBerry®, Android®, and Windows Mobile® phones.
The Barnes & Noble Mobile Site
Try it now. Visit
bn.com
on your mobile phone
And now, Read eBooks on the New B&N eReader.
Take advantage of the world's largest bookstore! Download the free Barnes & Noble eReader to read ebooks on handheld devices including Apple iPhone® and iPod Touch®, BlackBerry®, as well as Windows PC® and Apple Macintosh® computers.
The Barnes & Noble eReader