Featured Novelist: Rebecca Harrington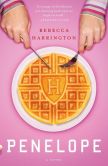 We asked Rebecca Harrington, author of the acclaimed new novel Penelope, to recommend some of her favorite books.

She obliged with a wonderful mix of titles -- and this descriptive note: "I love novels that chronicle the world we live in. Many of the titles listed below are extremely funny! Others combine a seriousness of purpose with a keen sense of social observation. Above all, each author represented here is a phenomenal prose stylist and a master of the written word. Enjoy!"