FREE FRIDAYS BOOK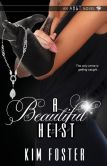 May 23, 2014: Today's Free Fridays book selection is A BEAUTIFUL HEIST by Kim Foster — a thrilling caper featuring a sly, sexy jewel thief at its center.
Overview

Everyone has a talent. Some are just more legal than others. Cat Montgomery steals jewels for AB&T, the premier agency for thieves in Seattle. Career perks: good pay, great disguises, constant adrenaline rush. Drawbacks: the possibility of jail time… or worse. Now she's taken on a lucrative side job — recovering a priceless Faberge egg for an alleged Romanov descendant.
Though Cat is working solo, there are plenty of interested players. Her FBI ex-boyfriend is nosing around, as is her former mentor-turned-nemesis. Then there's the sexy art thief helping — or is he hindering? — her mission. If her luck holds out, this could be the case that allows Cat to retire with her conscience and her life intact. If not, it'll be her last job for all the wrong reasons.
FREE FRIDAYS APP

May 23 2014: Today's Free Fridays app selection is HIDDEN OBJECTS: SECRET WORLD GARDENS – a hidden objects search game with jaw-dropping graphics, enchanting music, and mesmerizing worlds including The Secret Garden Mansion, The Enchanted Kingdom, Southern Ireland Gardens and more, inspired by locations around the world.
NEW! FREE FRIDAYS VIDEO

May 23, 2014: Today's Free Fridays NOOK Video selection is Season 1, Episode One of PBS®'s THE BLETCHLEY CIRCLE.
With an extraordinary flair for code breaking and razor-sharp intelligence skills, four seemingly ordinary women become the unlikely investigators of a string of grisly murders in this original thriller, set against the backdrop of post-war London.
"Smart, addictive and situated in a fascinating historical moment." – Variety
"A clever, entertaining way to pay tribute to women who in their time were oftenoverlooked and underestimated, and nevertheless found ways to never be ordinary."   – The New York Times
NOTE: Please scroll down to where the Episode One is listed as "Buy HD $0.00″ to take advantage of the free video offer!