FREE FRIDAY BOOK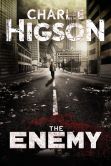 May 30, 2014: Today's Free Fridays book selection is THE ENEMY — a hard-pulsing teen thriller by by Charlie Higson, the first in his terrifying Enemy series.

Overview

In the wake of a devastating disease, everyone sixteen and older is either dead or a decomposing, brainless creature with a ravenous appetite for flesh. Teens have barricaded themselves in buildings throughout London and venture outside only when they need to scavenge for food. The group of kids living a Waitrose supermarket is beginning to run out of options. When a mysterious traveler arrives and offers them safe haven at Buckingham Palace, they begin a harrowing journey across London. But their fight is far from over — the threat from within the palace is as real as the one outside it.
Full of unexpected twists and quick-thinking heroes, THE ENEMY is a fast-paced, white-knuckle tale of survival in the face of unimaginable horror.
FREE FRIDAY APP

May 30, 2014: Today's Free Fridays app selection is EVERLOVE: ROSE — an interactive romantic adventure that merges the escapism of curling up with a steamy paperback with the engagement of personal choice.

NEW! FREE FRIDAY VIDEO

May 30, 2014: Today's Free Fridays NOOK Video selection is the pilot episode of THE NIGHT SHIFT This new NBC medical drama (it premiered on May 27) introduces a group of ex-Army doctors who, using battlefield-tested medical skills, clash with hospital bureaucrats who are more worried about the bottom line than the lives of their patients.