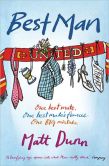 May 8, 2014:  Today's NOOK Daily Find offer is BEST MAN by Matt Dunn — a warmly funny novel about love and bromance for $1.99.
Overview
He's your best friend. She's the love of his life. You've got six weeks to convince him otherwise.
Adam Bailey is appalled when his best friend Nick announces that he's about to marry his new girlfriend, Sandra. Can't Nick see just how wrong the loud-mouthed, bossy, gold-digging Sandra is for him? Somehow Adam has to make his friend see the error of his ways – without losing his friendship in the process. With only six weeks to go until the wedding, there's not a lot of time.But amidst the chaos, carnage and confusion which ensue in the run-up to the big day, Adam himself meets someone who will change his life in ways he could never have expected.
This special price is valid for today only — stay tuned for tomorrow's NOOK Daily Find.