FREE FRIDAY BOOK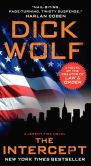 June 6, 2014: Today's Free Fridays book selection is THE INTERCEPT — a tense, driving detective thriller from Law & Order creator Dick Wolf.
In a debut novel ripped from tomorrow's fears, Dick Wolf writes about a terrorist plot launched against the new One World Trade Center built on the ashes of Ground Zero. With that harrowing apocalypse hovering in his mind, NYPD detectives Jeremy Fisk and Krina Gersten must find a way to track down a single missing suspect in a very large city.
"Dick Wolf's THE INTERCEPT is nail-biting, page-turning, twisty suspense. Warning: If you value sleep, don't start this one late at night." — Harlan Coben
FREE FRIDAY APP
June 6, 2014: Today's Free Fridays app selection is SNEEZIES MATCH — a fun puzzle game!
The Sneezies have got themselves caught up on a wire, and they need your help to rescue them. Slide the rows of Sneezies left or right with your finger to find pairs of the same color. Tap the pairs to make them sneeze, and send them parachuting down to safety. You get more points for matching more than 2 Sneezies in a turn. Each Sneezie you free will charge one of your powerups, giving you special powers to use to increase your score.
MORE FREE FRIDAY FUN?
Keep a lookout for more FREE FRIDAY content coming later today…