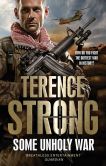 June 6: 2014:  Today's NOOK Daily Find offer is SOME UNHOLY WAR — Terence Strong's riveting novel of war and redemption — for just $2.99.
Overview
Dave Aston is a dead man walking.
He was a member of the elite British SAS. He'd ridden an adrenalin wave, invincible. Black Ops in Iraq and Afghanistan.
Until that final mission into bandit country. Unauthorised, with no back up. That was when his luck ran out…
Now, he's returned home to an alien civilian life of bad dreams and bad people. Everything is lost: his marriage, his home and his self-respect. Down and out, with a broken body and a damaged soul, on the cold, mean streets of his homeland. There he discovers that the astonishing circle of deceit is complete.
But is he just too far down to fight back against a new evil force at work in his own backyard? Can he possibly find the strength and courage to avenge his friends and save himself?
This special price is valid for today only — stay tuned for tomorrow's NOOK Daily Find.