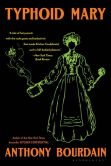 June 9: 2014:  Today's NOOK Daily Find offer is TYPHOID MARY — Anthony Bourdain's unique take on the life of a notorious woman — for just $1.99.
From the B&N Editors
In Kitchen Confidential, chef/author Anthony Bourdain took the reader into the world of the restaurant kitchen.
Here, he takes on a somewhat related topic: Mary Mallon, the cook who became known as Typhoid Mary, due to her alarming tendency to spread typhoid fever via the kitchens of 1904 New York City. When she was first suspected to be the cause of the outbreak, she disappeared, becoming the subject of an intense pursuit. Once caught, she escaped, thus beginning the chase anew.
Bourdain brings his unique literary wit to bear on one of the most fascinating and notorious women in history.
This special price is valid for today only — stay tuned for tomorrow's NOOK Daily Find.