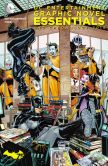 July 18, 2014: Today's BONUS Free Friday is DC ENTERTAINMENT GRAPHIC NOVEL ESSENTIALS — an expansive look at DCE's rich backlist collection created by the best writers and illustrators in the industry.
Overview
DC Entertainment has been the birthplace of some of comics' landmark graphic novels, from books that defined the category like Watchmen, Batman: The Dark Knight Returns, and Sandman to contemporary classics like Superman: Earth One and American Vampire.
Now, for the first time ever, DCE has compiled its Essential Graphic Novels and Reading Chronology into one place. This catalog can be used as an important resource for new fans seeking a starting point, as well a look back at our impressive backlist for the most fervent DCE enthusiasts.