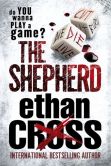 July 28, 2014:  Today's NOOK Daily Find offer is THE SHEPHERD — a fast-paced thriller sure to keep you up at night — for just $2.99.
Overview
Marcus Williams and Francis Ackerman Jr. both have a talent for hurting people. Marcus, a former New York City homicide detective, uses his abilities to protect others while Ackerman uses his gifts to inflict pain and suffering.
When both men become unwilling pawns in a conspiracy that reaches to the highest levels of the government, Marcus finds himself in a deadly game of cat and mouse trapped between a twisted psychopath and a vigilante with seemingly unlimited resources. Aided by a rogue FBI agent and the vigilante's beautiful daughter – a woman with whom he's quickly falling in love – Marcus must expose the deadly political conspiracy and confront his past while hunting down one of the must cunning and ruthless killers in the world.
This special price is valid for today only
 – stay tuned for tomorrow's 
NOOK Daily Find
.