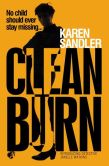 August 1, 2014:  Today's NOOK Daily Find offer is CLEAN BURN — a must-read mystery you won't be able to put down – for just $2.99.
Overview
Private investigator Janelle Watkins swore off investigating child abductions four years ago, when she left the San Francisco PD.
But when two clients beg for her help, one to find her missing 11-year-old son and the other to find a toddler who's vanished, Janelle can't say no. Even though it means returning to the scene of her nightmares — her hometown of Greenville.
Janelle enlists the aid of her ex-partner and ex-lover, Greenville County Sheriff Ken Heinz — but in the midst of their investigation, two other children are discovered missing and connected to Greenville.
Then Ken's niece disappears on her way to school.
This special price is valid for today only – stay tuned for tomorrow's NOOK Daily Find.