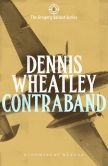 August 17, 2014:  Today's NOOK Daily Find offer is CONTRABAND — a story of international intrigue where planes flit by night to secret landing grounds, and lightless launches creep along low, desolate coastline — for just $1.99.
Overview
A beautiful woman leads Gregory Sallust into the middle of a UK smuggling ring. We meet again the sinister figure of Lord Gavin Fortescue, who escaped all penalty for the havoc and suffering he wrought in Such Power is Dangerous; and pitted against him we find that cynical but charming egoist, Gregory Sallust, whose courage and imagination saved his friends in the dark hours of Black August.
This special price is valid for today only – stay tuned for tomorrow's NOOK Daily Find.