One of the nicest ways you can show Mom you care is with breakfast in bed. Here are three NOOK Books bursting with creative recipes to help you get her Mother's Day off to a sunny start.

THE BIG BOOK OF BREAKFAST
With over 280 recipes for every kind of breakfast food imaginable, every delicious dish is so easy to make, you can hit the snooze button again and again. From classic blue-plate specials of Corned Beef Hash and Eggs to an innovative brunch of Spicy Orange Pancakes, here are frittatas and omelets, quiches and stratas, casseroles and more!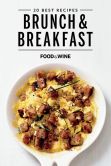 FOOD & WINE: BRUNCH & BREAKFAST
From America's leading authority on food and entertaining, here are 20 of Food & Wine's best breakfast and brunch dishes. These phenomenal recipes are made with easy-to-find ingredients, and all are perfected in the Food & Wine Test Kitchen — so they'll be up to Mom's high standards.


BETTY CROCKER: THE BIG BOOK OF BREAKFAST AND BRUNCH
The experts at Betty Crocker won't steer you wrong with their recipes for classic egg dishes, fresh ideas for waffles, pancakes, and French toast, and fancier fare like Puffed Pancake Brunch Casserole (yes, please) and Smoked Salmon Breakfast Squares.