FREE FRIDAY BOOK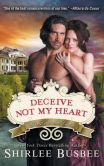 June 27, 2014: Today's Free Fridays book selection is DECEIVE NOT MY HEART – a story of inescapable love and the first book in the Louisiana Ladies series from Shirlee Busbee.
Overview
Leonie Saint-Andre, the granddaughter of an old Creole gentleman, thinks Morgan Slade is a scoundrel. Morgan, the son of a wealthy Natchez plantation family, thinks Leonie is a clever liar. Leonie claims Morgan married her, and fathered her five-year-old son. All she wants is her dowry returned to pay her dead grandfather's gambling debts and save their home. Morgan knows that he accepted neither dowry, nor Leonie's hand in marriage. But the woman before him awakens emotions he never thought he'd feel again. But that doesn't give reason for the imposter who signed his name to the marriage papers Leonie holds — or why her son bears such a striking resemblance to Morgan himself.
"One of the best romance writers of our time." ~Affaire de Coeur

June 27, 2014: Today's Free Fridays app selection is QUIBBLES –  an addictive fast-paced puzzle game designed for family fun.
The professor has lost his Quibbles! His fun loving little monsters have escaped and it's up to you to help the professor rescue them before they are lost forever. While Professor Rocker-Schmocker sets up his Quibble traps, you need to keep the monsters busy. Build mazes and use candies and tools to keep the Quibbles running around as long as possible. Simple enough for kids, challenging enough for adults — how many Quibbles can you capture?!
FREE FRIDAY VIDEO

June 27, 2014: Today's Free Fridays video selection is the first episode of the Netflix mega-hit HOUSE OF CARDS (Season 1, "Chapter One.").
Two-time Oscar® winner Kevin Spacey headlines this series as the ruthless House Majority Whip, Frank Underwood. When he is not appointed as Secretary of State as expected, Underwood vows to plot revenge, aided by his loyalists on Capitol Hill and a brash young newspaper reporter who will stop at nothing to promote her own career. With three Emmy awards already under its belt, viewers world wide wait anxiously for the next season of  HOUSE OF CARDS.
FREE FRIDAYS AUTHOR RECOMMENDATION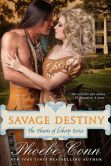 This week's Free Friday featured author Shirlee Busbee recommends…
"Set against the pivotal French and Indian Wars, SAVAGE DESTINY by Phoebe Conn is near-impossible to put down. Told with expert sensitivity, the story of Hunter and Alanna Barclay brims with richly delicious historical detail.
Alanna's family was slaughtered by Abenaki Indians when she was a child, and her first meeting with Hunter, a Seneca brave, is terrifying. Hunter, a friend of the Barclay family, is aware of Alanna's quiet beauty, but his attention is tragically caught by Alanna's vivacious cousin, Melissa. But Melissa betrays Hunter, driving him back into his own world. It's only when Alanna, desperate to bring him together with his and the now late-Melissa's son, that Alanna and Hunter meet again.
Stalked by marauding Abenaki, Hunter and Alanna must join forces and she blossoms; not only fighting for Hunter's life, but falling deeply in love with him. In this vivid tale of love lost and found, Conn skillfully hurdles the prejudices that Hunter and Alanna must overcome to find happiness with each other. SAVAGE DESTINY is an absolute-must for your virtual bookshelf."