FREE FRIDAY BOOK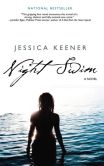 June 13, 2014: Today's Free Fridays book selection is NIGHT SWIM by Jessica Keener — a  debut novel that's a coming-of-age story steeped in complex family dynamics.
Sixteen-year-old Sarah Kunitz lives in a posh, suburban world of 1970 Boston. From the outside, her parents' lifestyle appears enviable – a world defined by cocktail parties, expensive cars, and live-in maids to care for their children – but inside their five-bedroom house, all is not well for the Kunitz family. Coming home from school, Sarah finds her well-dressed, pill-popping mother lying disheveled on their living room couch. At night, to escape their parents' arguments, Sarah and her oldest brother, Peter, find solace in music, while her two younger brothers retreat to their rooms and imaginary lives. Any vestige of decorum and stability drains away when a family tragedy occurs one terrible winter day. Soon after, their father, a self-absorbed, bombastic professor begins an affair with a younger colleague. Sarah, aggrieved, dives into two summer romances that lead to unforeseen consequences.
In a story that will make you laugh and cry, NIGHT SWIM shows how a family, bound by heartache, learns to love again.
FREE FRIDAY APP

June 13, 2014: Today's Free Fridays app selection is CHAMPIONSHIP POWERBOATS 2013 – an adventurous game that'll make you feel like a rock star on the high seas! Experience a  new adventure and test your skills as a powerboat pilot. Discover three exciting locations: Industrial Harbour in the heart of the city, an exotic paradise island in Oceania, and the challenging rocky cliffs of Greece. Try all 6 powerboats, unlock boosters and upgrades, win championships, defeat your friends in local multiplayer and beat single races' best times. Prove there can be only one powerboat Champion!
FREE FRIDAY VIDEO

June 13, 2014: Today's Free Fridays video selection is the first episode of TRUE DETECTIVE Season 1, "The Long Bright Dark."
Starring Academy Award® and Golden Globe award winner Matthew McConaughey (Dallas Buyers Club) & Academy Award® nominee and Emmy® award winner Woody Harrelson (The Hunger Games), the premiere episode of the acclaimed HBO drama sees two former Louisiana State CID partners, Martin Hart and Rustin Cohle, give separate statements to a pair of investigators about the murder of a prostitute, Dora Lange, 17 years earlier. As they look back, details of the crime, replete with occult overtones, are accompanied by insights into the detective's volatile partnership and personal lives.
FREE FRIDAYS AUTHOR RECOMMENDATION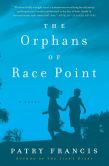 This week's Free Friday featured author Jessica Keener recommends…
"THE ORPHANS OF RACE POINT by Patry Francis is a novel of epic proportions. This story has everything — characters you will love and root for and take on as your own. The writing will transport you from the opening page and linger long past the final lines. Set in the village of Provincetown, MA, a tragedy redefines the relationships in a small Portuguese community and, in particular, three childhood friends whose lives entwine in ways you can't imagine. This story is devastating, evocative, full of yearning, universal and intimate."