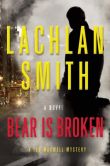 Today's Free Fridays book selection is Bear is Broken by Lachlan Smith  - a taut legal thriller from an emerging master of the genre.
Brothers and lawyers Leo and Teddy have dealt with their share of hardships: when their father was accused of murdering their mother and thrown into jail, older brother Teddy had to become totally responsible for Leo's care. When Teddy is suddenly shot one day in public, Leo goes on a relentless search for the shooter, and discovers that Teddy – and the rest of his family – carry secrets that could destroy several lives, including his own. Can he find out the truth while his brother hovers between life and death in a coma, or will his brother's enemies make sure that he ends up in the same condition as Teddy?

Today's Free Fridays app selection is Grow by Epic Pixel – a fast-paced adventure game with a fishy twist.
As a minnow, you need lots of food and exercise to grow into a big healthy fish. So eat as much as you can in order to advance to the next level. You can choose between a fish bowl, an aquarium, the ocean and more in which to grow, just watch out for aquatic enemies who would like to eat you for lunch!
For more great games from Epic Pixel, click here.
Each week, we ask our featured author to recommend a book or author that you may want to check out. Since authors are such passionate readers themselves, we thought you might like to find out what they love to read, too! Here's what Lachlan recommends:
Legal thrillers aren't really my thing, but I liked yours, someone said to me at an event in my hometown a few weeks ago, reminding me of the limitations of being considered a so-called "genre" writer. True, it's possible to think of one's genre as a set of limiting conventions, but I tend to feel, rather, that there's something transcendent and universal in the legal thriller genre, in the unique opportunities that its conventions provide for realism, edge-of-your-seat drama, and moral seriousness. That legal thrillers continue to be written and read in such numbers suggest that many readers agree with me.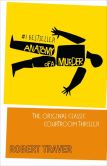 Anatomy of a Murder, by Robert Traver, remains, to me, the best legal thriller. What remains fresh and compelling about this novel is the way that Traver puts aside the traditional genre ideal of the hero seeking "truth" or "justice" — concepts that Traver's novel, like all good legal thrillers, realistically exposes as multifaceted, self-contradictory, and open to manipulation. Instead, Traver crafts a new kind of hero: a  lawyer who strives honorably within the confines of his profession, playing by the rules to arrive at the least harmful of many possible "truths" in an effort to save the life of a man who may or may not be guilty of murder.
The brilliance of Traver's novel lies in its mature embrace of ambiguity and its relish for the drama of the courtroom, which is and always has been a cross between the stage and the jousting-field, a place where competing stories come to do battle through their champions, the lawyers, under the shockingly medieval assumption that truth must prevail. If the law is the stage on which we reenact out our passions, our flaws, and our ideals, giving dramatic shape to tragedies that would otherwise consume us, then Anatomy of a Murder is the best example we have of how fiction can meld that stage with its own purposes to shine a light on human nature.