FREE FRIDAY BOOK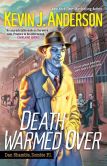 August 22, 2014: Today's Free Fridays book selection is DEATH WARMED OVER — the first book in the Dan Shamble, Zombie P.I. Series.
Overview
Single Dead Detective Seeks Clue
Ever since the Big Uneasy unleashed vampires, werewolves, and other undead denizens on the world, it's been hell being a detective — especially for zombie P.I. Dan Chambeaux. Taking on the creepiest of cases in the Unnatural Quarter with a human lawyer for a partner and a ghost for a girlfriend, Chambeaux redefines "dead on arrival." But just because he was murdered doesn't mean he'd leave his clients in the lurch. Besides, zombies are so good at lurching.
Now he's back from the dead and back in business — with a caseload that's downright unnatural. A resurrected mummy is suing the museum that put him on display. Two witches, victims of a curse gone terribly wrong, seek restitution from a publisher for not using "spell check" on its magical tomes. And he's got to figure out a very personal question — who killed him?
FREE FRIDAY APP


August 22,  2014: Today's Free Fridays app selection is MATCH 3: MR. FRUIT. Switch and match your way through more than 20 levels of different, apples, berries, watermelons and more! Play as you go while Mr. Fruit harvests them one by one! But beware of bees and bee hornets, for they might ruin the good fruit. Make sure to match and destroy them!
FREE FRIDAY VIDEO

August 22, 2014: Today's Free Fridays video selection is DOCTOR WHO: Season 1, Episode 1: "Rose." We're celebrating the new season of DOCTOR WHO and the new 12th Doctor (Peter Capaldi) with this week's pick.
In the first episode of the breakout BBC hit, Rose Tyler meets a mysterious stranger called The Doctor, and soon, she realizes that the whole of Planet Earth is in danger. The only hope for salvation lies inside a strange blue police box…
Fun Fact: DOCTOR WHO is the longest-running science fiction television show in the world (according to Guinness World Records).  The series has been on-air since 1963 (for over 50 years)!
FREE FRIDAYS AUTHOR RECOMMENDATION
Kevin J. Anderson, the author of this week's Free Fridays book selection, recommends…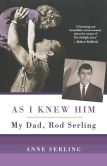 "Anne Serling's memoir, AS I KNEW HIM, about her father Rod Serling is a must-read for fans of The Twilight Zone and Night Gallery. It's a beautiful portrait that reveals the real, fascinating person behind the legendary icon who graced TV screens for generations. As a wide-eyed, imaginative young kid in a small town in Wisconsin, I visited countless amazing worlds with Rod Serling; his otherworldly journeys helped me see how to become a writer. Now, Anne Serling takes you on another fantastic voyage… this time it's into his home and family."