FREE FRIDAYS BOOK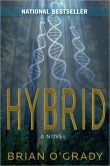 Today's Free Fridays book selection is HYBRID by Brian O'Grady — a heart-pounding thriller that combines the technological authority of The Andromeda Strain with the dark mystery of The X Files.
Seven years ago, Amanda Flynn returned from a Honduran camp as the sole survivor of a mysterious new virus known as EDH1. Most of its victims die a gruesome, agonizing death. Others become violent savages. But a precious few, like Amanda, survive — and change.
Amanda escaped from a three-month quarantine because the virus made her different, superior. She can sense things, do things, using only her mind — and these abilities tempt her to test their limits. To harm. Even, though she may resist, to kill. And there is another. A man of menace: tall, amoral, relentless. His mission is nothing less than the end of human society – and the birth of a new order forged of his own will. He has the power, too. And, armed with his own store of virulent death, he is coming….
FREE FRIDAYS APP
Today's Free Fridays app selection is KIDS' CARTOON TRIVIA, a fun trivia game that tests your knowledge of kids' cartoons.
Answer questions like: What type of animal is Rango? According to Dr. Seuss' books, what is Horton? What is the name of the starfish in the movie Finding Nemo? If you're a movie buff and cartoon fanatic, you will love this app!
FREE FRIDAYS BONUS BOOK!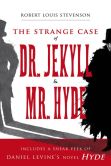 Today we're offering a 2nd Free Fridays eBook!  THE STRANGE CASE OF DR. JEKYLL AND MR. HYDE is Robert Louis Stevenson's classic tale of a kind and well-respected doctor who is transformed into a murderous madman by taking a secret drug of his own creation.
This special NOOK Book edition includes a free sneak peek at Daniel Levine's novel Hyde, coming out on March 18!
RECOMMENDED BY OUR FREE FRIDAYS AUTHOR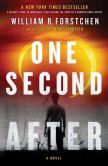 Each week, we ask our featured author to recommend a book or author that you may want to check out. Since authors are such passionate readers themselves, we thought you might like to find out what they love to read, too! Here's what Brian O'Grady recommends:
"I'd recommend One Second After by William R. Forstchen. I loved the premise and the fact that it is all too real. The writing is taut and the narrow focus, a father and his family, brings the novel down to a human, personal level that almost against my will forces me to relate to the characters."
And to celebrate Free Friday, Brian O'Grady's publisher, The Story Plant, is offering six other novels in which our world is transformed, each for the special NOOK price of $1.99:
Dateline: Atlantis, Lynn Voedisch
No Dawn for Men, James LePore and Carlos Davis
Everybody's Daughter, Michael John Sullivan
Blue, Lou Aronica
Expedition Beyond, Roger Bagg
American Quest, Sienna Skyy
Happy Friday, and happy reading!