FREE FRIDAYS BOOK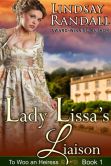 May 9, 2014: Today's Free Fridays book selection is LADY LISSA'S LIAISON — the first book in Lindsay Randall's To Woo an Heiress series.
Overview

Lady Lissa Lovington has a problem: too many suitors all hungering for the same thing—her newly-acquired inheritance. So Lissa plants a devious rumor: she's had a liaison with the notorious, and notoriously handsome, Gabriel Gordon, the sixth Earl of Wylde.
Outcast by the ton, Gabriel has won too many duels and is believed to have had a hand in the death of his would-be-bride. The rumor works like a charm, until the mercurial Lord Wylde arrives to turn the tables and make Lissa's pretend liaison a reality.
FREE FRIDAYS APP

May 9, 2014: Today's Free Fridays app selection is JUST 2 WORDS — a puzzle game where every answer is just 2 words and every puzzle is just plain fun!
NEW! FREE FRIDAYS VIDEO

May 9, 2014: In an exciting new Free Fridays development, we're excited to offer Season 1, Episode 1 (Pilot) of the Emmy®  winning HBO® comedy series  VEEP starring Julia Louis-Dreyfus!
Recently in the spotlight as it was featured in the opening montage of the White House Correspondents' Dinner last weekend, VEEP follows the whirlwind day-to-day existence of Vice President Selina Meyer as she puts out political fires, juggles a busy public schedule and demanding private life, and defends the president's interests, even as she tries to improve her dysfunctional relationship with the chief executive.

FREE FRIDAYS AUTHOR RECOMMENDATION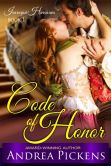 This week's Free Fridays featured author Lindsay Randall recommends…
From one romance lover to another, I'm excited to recommend Andrea Pickens's CODE OF HONOR, the first book in her fabulous Intrepid Heroines series.
Desire, danger and intrigue all come together in this stirring story set in Regency England. Miss Alexandra Chilton would much prefer spending her days at home in the country, pursuing her passions for botany and painting. But her younger brother is in need of a Season in Town in order to win the hand of his beloved. When Alex captures the attention (and eventually the heart!) of the notorious Icy Earl, she begins to wonder if perhaps her own future might hold romance. First, though, she and the earl must solve a puzzle from the past while outwitting a plot against her family.
Rich in detail and filled with feeling, CODE OF HONOR is a story not to be missed! Plus, available now for pre-order is Andrea Pickens' newest title PISTOLS AT DAWN, Book 4 in this scintillating series.