FREE FRIDAY BOOK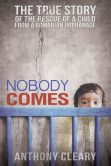 August 1, 2014: Today's Free Fridays book selection is NOBODY COMES — a true story of the rescue of a child from a Romanian Orphanage.

Overview
This is the true story of the (ultimately successful) endeavour to find, extract and adopt an infant from an 'orphanage' in post revolutionary Romania despite the unhelpful and sometimes downright obstructive attitude of both the UK and the Romanian authorities.
The author describes the horrors of Orphanage Number One in Bucharest, the poverty and endemic corruption which he faced on a daily basis and his struggle to raise awareness in both jurisdictions of the damage inflicted upon the children by the general indifference to their plight.
The book also recounts the remarkable friendship which was forged with a Bucharest University graduate who became interpreter, guide and, ultimately, Godfather to the child who was rescued.
FREE FRIDAY APP


August 1,  2014: Today's Free Fridays app selection is MONKEY MATH SCHOOL SUNSHINE — your child can learn math while having fun!
Join your child's favorite monkey in math games and activities in a playfully designed beach-themed world. Monkey Math School Sunshine allows your child to build fundamental math skills while they are endlessly entertained. Your child will count, add and sort their way through engaging games with uninterrupted play.
FREE FRIDAY VIDEO

August 1, 2014: Today's Free Fridays video selection is the first episode of WEEDS (Season 1, "You Can't Miss the Bear").
Is the grass really greener on the other side? Yes, and it smells better, too! So when Nancy Botwin (Golden Globe winner Mary- Louise Parker) faces both sudden widowhood and poverty, she's determined to do anything to keep her kids in suburbia, including taking a job as the neighborhood pot dealer. Subversive, satirical and hilarious, the first season of this groundbreaking Showtime hit is guaranteed to spark laughter!