FREE FRIDAYS BOOK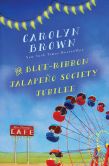 April 11, 2014: Today's Free Fridays book selection is THE BLUE-RIBBON JALAPEÑO SOCIETY JUBLIEE by Carolyn Brown — a novel full of Texas charm, true friendship, and some hot jalapeños.

FREE FRIDAYS APP

April 11, 2014: Today's Free Fridays app selection is WORD LINES — a match game that will put your wordsmithing skills to the test.
Get out your buddy Webster, because this is going to get intense! WORD LINES offers players the chance to test their skills by forming words of differing lengths (the longer the better) to clear the board. The letters are scattered throughout the board, and its up to you to see how best to put them together! Select your difficulty mode, sound effects, word length, and word length. Find the satisfaction of clearing the board while truly putting your brain to work!