FREE FRIDAY BOOK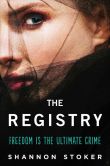 July 18, 2014: Today's Free Fridays book selection is THE REGISTRY — a story that introduces an alternate America, where girls are raised to be brides, boys raised to be soldiers and freedom is the ultimate crime.
Overview
Welcome to a safe and secure new world, where beauty is bought and sold, and freedom is the ultimate crime.
The Registry saved the country from collapse, but stability has come at a price. In this patriotic new America, girls are raised to be brides, sold at auction to the highest bidder. Boys are raised to be soldiers, trained to fight and never question orders.
Nearly eighteen, beautiful Mia Morrissey excitedly awaits the beginning of her auction year. But a warning from her married older sister raises dangerous questions. Now, instead of going up on the block, Mia is going to escape to Mexico — and the promise of freedom.
All Mia wants is to control her own destiny — a brave and daring choice that will transform her into an enemy of the state, pursued by powerful government agents, ruthless bounty hunters, and a cunning man determined to own her… a man who will stop at nothing to get her back.
FREE FRIDAY APP

July 18, 2014: Today's Free Fridays app selection is NUMBER JUNGLE — this unique action-packed brain teaser will keep your basic maths skills and calculation sharp and provide great fun whilst you play it! 

NUMBER JUNGLE is one of the most entertaining and addictive puzzle game for all ages! Try to solve the puzzle as quickly and accurately as possible to achieve the highest score. It's simple, fast and relaxing, but always keeping you challenged!
FREE FRIDAY VIDEO

July 18, 2014: Today's Free Fridays video selection is the first episode in Season 2 of WITCHES OF EAST END.
Julia Ormond, Jenna Dewan-Tatum and Rachel Boston return in Season 2 of TV's most bewitching series. The open portal to Asgard brings danger, as Joanna fights the poison in her blood, and her family desperately seeks the cure. Now that Freya knows who Killian really is, what will it mean, especially now that he and Dash are warlocks?