Today's Free Fridays book selection is We're Going to the Farm by Nancy Streza – a sing-along children's book that's perfect for story time!
Kids will be captivated by this lovely farm story that's set to the rhythm and cadence of the classic song The Farmer in the Dell. They'll learn about different farm animals and new words while singing along with you. Reading has never been more fun!

Today's Free Fridays app selection is Fairy Math by Bugaboo Math Games for Kids – a fun, engaging education app that'll get kids excited about learning arithmetic!
Recommended for kids ages 0-4, Fairy Math takes you into a vivid fantasy land where beautiful fairies and other magical creatures help you earn jewels for your crown to become king or queen of your domain – but you'll have to complete equations to obtain the jewels! Learn to identify numbers, count objects, addition and subtraction, and more to achieve the bejeweled crown of your dreams.
For more great educational apps from Bugaboo Math Games for Kids, click here.
Each week, we ask our featured author to recommend a book or author that you may want to check out. Since authors are such passionate readers themselves, we thought you might like to find out what they love to read, too! Here's what Nancy recommends: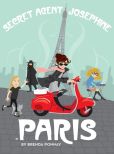 Right now, I'm reading Secret Agent Josephine in Paris by Brenda Ponnay to my granddaughter. The illustrations are bold and eye-catching and I love the idea of a mother-daughter spy team gallivanting around Paris.  It's the complete opposite of a trip to our farm and that makes it just right for our imaginations to run wild.