Author Susane Colasanti is an absolute pro when it comes to capturing the way teenagers talk and think. Her newest book, Keep Holding On, is another hit with young readers. It tackles the always-important subject of bullying, and Susane's nuanced exploration of this difficult subject gives the story an authentic appeal.
Today, Susane stopped by the NOOK Blog to tell us how she learned to think like a teenager: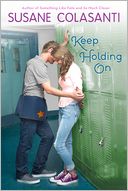 One of the questions I'm frequently asked is, "Why do you write for teens?" The answer is simple. My internal age is 16. Not the worst parts of 16 where you feel like no one understands you and every minor problem balloons into a Vital Matter of Importance and hormones are making you a crazy person. Just…being a teen. I don't feel my age at all. Whenever someone asks me how old I am, I cannot believe the answer is 39. Dude. That's almost 40. How did I get to be almost 40? The whole thing is absurd. Someone should really check their records.
Writing about the issues my characters deal with is like writing about my own life. I remember what it feels like to deal with most of those same issues. High school was the worst time for me. Trauma tends to impress emotions on your heart in a way that allows you to recall those experiences with ease. Eating lunch in the bathroom that semester my friends all had a different lunch period and I couldn't stand eating alone in the cafeteria? Feels like yesterday. The rush of my heart pounding when a boy I liked suddenly appeared in the hall between classes, the agony of my stomach churning when my best friend was mad at me, the pride I felt when my English teacher selected my creative writing essay to read to the class…all of those experiences and emotions are easily accessible. All I have to do is play the Cure or R.E.M. and I'm right back at 16.
Dialogue is my thing. The books I love to read the most have tons of dialogue, so that's the way I write. My friends will be the first ones to tell you that I say "like" and "dude" too much. I don't even realize I'm doing it. Given my preferred vocabulary and annoying tendency to abbreviate (my friend Jim and I talked in abbreve way before people started throwing around terms like fro-yo, just FYI), writing for teens is not exactly a stretch. People who know me say I write the way I talk.
Any other way would be ridic.
A free sample excerpt from this book is available for download on the product page now!
NOOK owners: go to shop and search for "Susane Colasanti" to download her irresistible YA novels.