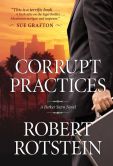 May 1, 2014: Today's NOOK Daily Find is CORRUPT PRACTICES — a Parker Stern novel from Robert Rotstein that Sue Grafton called "a terrific book" for just $2.99.
Overview
Parker Stern's legal career is on the rise. But when his mentor Harmon Cherry commits suicide, Parker gets stage fright so severe that he becomes paralyzed whenever he steps into a courtroom. Rich Baxter, an ex-colleague, calls from jail and asks Parker to represent him. Baxter has been charged with embezzling millions from his church, a powerful cult that Parker despises. At their first meeting, Baxter surprises Parker by claiming that Harmon Cherry did not commit suicide, but was murdered by someone connected to the church. Parker doesn't believe it until Baxter is found hanging in his cell. Ultimately, Parker agrees to represent Baxter's father in a lawsuit brought by the church. In the process of representing his client and uncovering the truths behind the deaths of his friends, Parker must overcome his own long-buried secrets and deep-seated fears.
This special price is valid for today only — stay tuned for tomorrow's NOOK Daily Find.