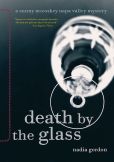 April 27, 2014: Today's NOOK Daily Find is DEATH BY THE GLASS — the 2nd Sunny McCoskey Napa Valley mystery by Nadia Gordon – for just $1.99.
Overview:
High-stakes wine fraud and murder disguised as a heart attack compel Sunny McCoskey to again toss aside her chef's apron and don the role of sleuth. When the list of suspects includes her new lover, the celebrity chef at a posh Napa Valley eatery, the personal risks of her investigation rise dramatically. With the same eclectic crew of gourmet friends and sassy co-workers who helped her in Sharpshooter, Sunny proves that she has a nose for crime as well as for a good Cabernet Sauvignon.
This special price is valid for today only – stay tuned for tomorrow's NOOK Daily Find.