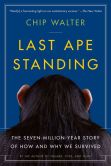 March 28, 2014:  Today's NOOK Daily Find offer is LAST APE STANDING — a fascinating take on our evolution for just $1.99.
Former CNN Bureau Chief, journalist and filmmaker Walter presents an insightful read on how we became the creatures that we are today. Page after page of surprising and thought provoking information bound to start conversations and have you never see yourself — or anyone else — the same way again.
Stay tuned for tomorrow's NOOK Daily Find.