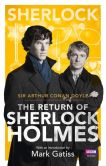 April 24, 2014: Today's special NOOK Daily Find rounds up a collection of six classic works of mystery and murder featuring Sir Arthur Conan Doyle's legendary sleuth Sherlock Holmes — for just $2.99 each!
Overview:
These special editions include introductions from the creators and stars of the hit BBC series to give a behind the scenes look at how these stories influenced the creation of the critically acclaimed series Sherlock.
Explore the entire collection here and save big today!
This special price is valid for today only — stay tuned for tomorrow's NOOK Daily Find.