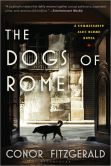 April 28, 2014: Today's NOOK Daily Find is THE DOGS OF ROME — the 1st in the Commissario Alec Blume Series by Conor Fitzgerald — for just $1.99.
Overview:
In this accomplished and riveting thriller, police inspector Alec Blume battles organized crime, political pressure, and his own demons as he investigates the death of Arturo Clemente. Blume, a clever American expatriate with a disposition against authority, soon realizes that he is being watched from on high. Forced to negotiate with powerful, suspicious people on all sides of the law, Blume must rely on instinct, drive, and luck to find the killer.
THE DOGS OF ROME is both a thrilling detective story and a vision of underground Rome. Blume is a perfect hero for this story: intelligent but flawed, cynical but unafraid. He is a trustworthy and compelling protagonist for this first installment in a gritty and promising series.
This special price is valid for today only — stay tuned for tomorrow's NOOK Daily Find.