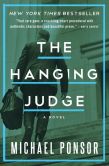 April 14, 2014: Today's NOOK Daily Find offer is THE HANGING JUDGE  by veteran federal judge Michael Ponsor — it's a fascinating debut thriller with an insider's perspective for just $1.99.
Based on the experience of the author, a federal judge who in 2000 presided over the first capital case in Massachusetts in more than fifty years, this extraordinary debut thriller offers an unprecedented inside view of a federal death penalty trial.
This special price is valid for today only — stay tuned for tomorrow's NOOK Daily Find.