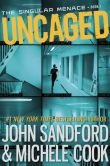 UNCAGED — a teen thriller about a girl trying to save her brother from a ruthless corporation — is a definite page-turner that combines social activism with techno-noir, from bestselling author John Sandford!
From B&N Editors
With this action-packed novel, bestselling novelist Sandford (Field of Prey) makes his teen debut and it won't be easily forgotten. This series launch draws you in with its arresting tale about Odin and Shay Remby, a pair of foster kids who become the prey of a ruthless medical research corporation. With its fast-breaking turns, UNCAGED functions well either as a standalone or as the promise of other pulsing things to come.
Read John Sandford and Michele Cook's view on UNCAGED — as posted on Sandford's Facebook page after a book signing in Scottsdale, Arizona:
"Getting this book out there has been kind of a weird trip. We were just beginning to date when we drove together up to Santa Barbara, Ca., talking about books and such, and Michele was talking about a Young Adult novel that she had never quite finished. [Here we're going to have to talk about ourselves in the third person. We're not actually either royalty or all that snotty, we're just trying to keep the story straight.] Anyway, John picked up on that thread, the way it goes when you're brainstorming, and eventually came up with the idea for a guy named Twist, a reflection of the character Oliver Twist, who, of course, grew up as an orphan exploited by evil people. Before we'd gotten home, we had the basic outline for a series of novels involving Twist, an L.A. artist, and Shay, an Oregon runaway, fighting another batch of evil people. (Evil never goes out of style – there's always more than enough to go around.)
From that basic concept, we grew the outlines for a trilogy that pits a group of young people against a corporation which is trying to get to the "Singularity" – that combination of organic medicine and computer machinery that will allow people to live forever. In this case, not all people, just rich ones – and to get there, the corporation needs lots of human experimental subjects.
From there, it gets ugly.
At the time we began this book, we were both living in L.A. We really like that place, but were eventually driven out by the various stresses of living there, and now live in New Mexico. In any case, we're familiar with the terrain, and the people of L.A. and think it makes a terrific background for a thriller novel, which "Uncaged" is. Although we focus on the Hollywood area, the story moves from Hollywood to south L.A. to downtown and out to the Richie-riches of Malibu, and finally, out of L.A. altogether, and into the wider Southwest.
We're now finishing the second novel in what we're calling "The Singular Menace" series, which will be out in a year or so, and have started laying down specific ideas for the third. As YA novels go, this is a little different. It's not set in the future, it's not particularly dystopian (except to the extent that L.A. already is) and there are no vampires or werewolves. There is a lot of tech, but most of it is real, or just around the corner.
And just last week, in the second book, our girl Shay has acquired…a gun.
She kind of likes it."