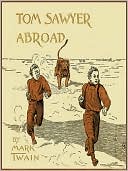 When Mark Twain left for Europe in the summer of 1891, hoping to find cures for his family's physical and financial troubles, he packed his two surest literary assets. The following story idea is from a notebook entry Twain made shortly before departure:
Huck comes back, 60 years old, from nobody knows where—& crazy. Thinks he is a boy again, & scans every face for Tom & Becky etc. Tom comes, at last, 60 from wandering the world & tends Huck, & together they talk the old times; both are desolate, life has been a failure, all that was lovable, all that was beautiful was under the mould. They die together.
Despite a weakness for unlikely plots—A Connecticut Yankee in King Arthur's Court was just published—Twain soon realized that a Tom-Huck sequel featuring his own middle-aged despair was a doubtful solution to imminent bankruptcy. Two months of spa-towns and sightseeing later, neither his rheumatic right arm nor his mood had improved: "Shrines all the way," begins one tired notebook entry, "—what you want is cussing places." He managed to meet his newspaper deadlines, but these travel pieces could also get weary: "You meet all kinds of people at a place like this, and if you give them a chance they will submerge you under their circumstances, for they are either very glad or very sorry they came, and they want to spread their feelings out and enjoy them" ("Aix, the Paradise of Rheumatics").
In September, Twain escaped alone for a ten-day float down the Rhone, ending at Arles. Although he described the trip as a chance "to smoke, read, doze … [and] be remote from the world and its concerns," this seems only hopeful. Each postcard-perfect, crusader-built castle he passed, says Twain in one letter to Livy, is but a "wasted pile of mouldy walls and broken towers," representing centuries of military, religious, and economic tyranny. "These are pathetic shores and they make one despise the human race."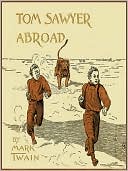 Still needing the rescue of a big book, Twain took notes while he drifted for one tentatively titled "Innocents Adrift." He must have returned to his Mississippi boy-heroes too, as Tom Sawyer Abroad, a Tom-Huck air-balloon adventure, was published a few years later. But neither the sequel nor Twain's own frantic travels—six business trips back to America during four years abroad—could save the financial ship, and in 1894 he declared bankruptcy, again.
---
Steve King contributes Daybook to the Barnes & Noble Review and teaches in the English Department of Memorial University in St. John's, Newfoundland. His literary daybook began as a radio series syndicated nationally in Canada. He can be found online at http://www.todayinliterature.com.