The last entry in Mark Twain's Autobiography shows him feeling beaten and bewildered. His daughter Jean had died suddenly two days earlier, on Christmas Eve morning, 1909. Too weak and distraught to attend the December 26th funeral in Elmira, New York, Twain stayed in Connecticut, watching the clock. His three-part journal entry—mid-morning, 2:30 p.m., and 5 p.m.—sounds as a tolling bell and a nailed coffin for his ever-dwindling family:
…I can see it all just as if I were there. The scene is in the library in the Langdon homestead … where her mother and I stood, forty years ago, and were married; and where Susy's coffin stood thirteen years ago; where her mother's stood five years and a half ago; and where mine will stand, after a little time. …When Clara went away two weeks ago to live in Europe, it was hard but I could bear it, for I had Jean left. I said we would be a family…. And now? Now Jean is in her grave!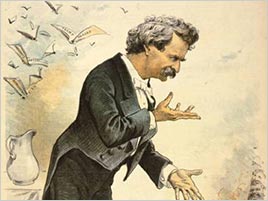 In fact, Twain's home life had been in disarray for decades. He had settled in Hartford, Connecticut in 1871, custom-building a house described by one biographer as "part steamboat, part medieval stronghold, part cuckoo clock." He spent twenty years there raising his children, writing his most famous books, and losing his shirt through adventure capitalism. His departure for Europe in 1891, at first an attempt to reduce expenses, became a long, forced march to repay debts. Through his international speaking tour Twain made good on every bankrupted dollar—two million in today's money—but his daughter Susy died in America without him, and his wife Livy died on the road with him. For the decade spent tramping the world, Twain was without home or family or both; his letters over his last decade, spent among residences in New York, Connecticut, and Bermuda, are full of references to who and what he has lost.
But the decade of 1890-1900 was also triumphant, with audiences lined up from Cincinnati to Ceylon to hear "The Funniest Man on Earth," and journalists quoting daily from "The Gospel of Saint Mark." Over the next few weeks we will sample from the soapbox speeches and the worldwide whistle-stop talks—each of these billed, ironically, as an "At Home With Mark Twain."
---
Steve King contributes Daybook to the Barnes & Noble Review and teaches in the English Department of Memorial University in St. John's, Newfoundland. His literary daybook began as a radio series syndicated nationally in Canada. He can be found online at http://www.todayinliterature.com.