Dear Reader:
The 2011 Discover Awards were presented earlier today at our annual awards ceremony in NYC. John Freeman, author/critic and editor of Granta magazine, announced second place, nonfiction and presented a check for $5,000 to Annia Ciezadlo.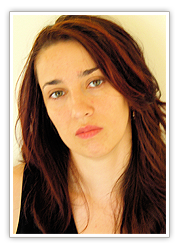 This is what John and his fellow judges Marie Arana and Koren Zailckas, said about Ciezaldo's memoir/social history of the Middle East, Day of Honey:
"Day of Honey is a history of Middle Eastern cuisine wrapped in a story of a marriage, sealed within a meditation on life in wartime. If it were served in a Lebanese restaurant it would almost certainly involve some grape leaves and a mischevious-minded waiter. When Annia Ciezaldo, a self-professed Polish-Irish mutt from Chicago, marries a Lebanese reporter for Newsweek, her tour of duty in the Middle East becomes permanent. Day of Honey chronicles her plunge into her husband's culture, some hilarious cross-cultural experiences with her in-laws, and the grit and grind of war in Iraq, where Ciezaldo was based as a reporter just outside the Green Zone. Memoirs by reporters so often foreground all the wrong things: the risks they endure, the toll bearing witness takes on them. Day of Honey never makes such mistakes. It simply and beautifully shows how, in wartime, life persists on a human scale. People eat, sleep, and argue. In prose as fresh and sumptuous as the meals Ciezaldo describes, Day of Honey shows why food might be the most important of those elements." — John Freeman
"In this altogether original tale of love and war, the important stuff happens in the kitchen. Annia Ciezadlo, a veteran journalist covering the Middle East, combines her reporting skills with a contagious lust for food, and the result is an unparalleled portrait of a people. Even as violence threatens to overrun Baghdad and Beirut, Ciezadlo keeps her eye trained on the simple pleasures of the dinner table — the fragrance of her mother-in-law's spiced lentils, the sharp tang of cilantro-garlic paste, the crisp surprise of a well-made fattoush. In such ways does she give us a human vantage on the war-torn Middle East and a deeper understanding of its culture." — Marie Arana
"This book filled me with the truly unique combination of adrenaline and appetite. Although Ciezaldo leads us through war-torn Baghdad and Beirut, her warm, funny, electrifying, and sensuously written memoir is about people, not politics. This is a story of marriage and friendship, a definitive history of Middle Eastern food, and a chronicle of the small human comforts that become all the more important during wartime. Ciezaldo has a poet's gift for language and a journalist's eye for details. You will feel like you're there through every meal and every bomb-blast. You'll smell the wet ash, the garlic, the lemon, and the night-blooming jasmine. By the time you finish, you'll feel changed…and eager to try the many recipes in the book's final chapter." — Koren Zailckas
Congratulations to all of our winners, and thanks again to our judges for their time and careful consideration.
Cheers, Miwa
---

Miwa Messer is the Director of the Barnes & Noble Discover Great New Writers program, which was established in 1990 to highlight works of exceptional literary quality that might otherwise be overlooked in a crowded book marketplace. Titles chosen for the program are handpicked by a select group of our booksellers four times a year. Click here for submission guidelines.