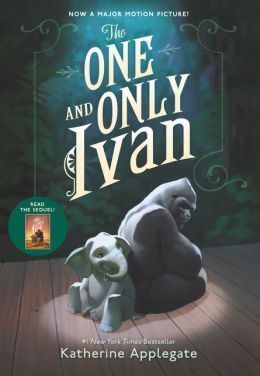 The American Library Association has spoken, delivering the 2013 recipients of its top awards in children's literature.  Katherine Applegate and illustrator Patricia Castelao Costa's The One and Only Ivan – in which a strip mall dwelling gorilla and baby elephant bond over shared loves of art and nature – was awarded the John Newbery Medal for "most distinguished contribution to American literature for children."
Three additional titles were cited as Honor nominees for the Newbery: Laura Amy Schlitz's Splendor and Glooms, Three Times Lucky by Sheila Turnage, and Steve Sheinkin's Bomb: The Race to Build – and Steal – the World's Most Dangerous Weapon.  Sheinkin's true story of the atomic bomb's inception was also notably awarded both the ALA's Robert F. Sibert Medal for "most distinguished informational book published in English during the preceding year" and the Young Adult Library Service Association's Award for Excellence in Nonfiction.
The ALA's award for distinguished illustration, the Randolph Caldecott Medal, celebrates its 75th anniversary with a win for #1 New York Times bestseller Jon Classen's This is Not My Hat.  Hat's vivid cartooning details the humorous underwater theft of a large fish's tiny bowler hat by a far smaller sea dweller.
Among the many other winners and honorees were this year's recipients of the Coretta Scott King awards, honoring African-American authors and illustrators of outstanding books for children.  These went to Andrea and Bryan Pinkney for their writing of Hand in Hand: Ten Black Men Who Changed America, and to artist Bryan Collier for I, Too, Am America, Collier's collection of painted renderings of poems by Langston Hughes.  This marks Collier's second King award, following his win in 2011 for Dave the Potter: Artist, Poet, Slave, the life story of a 19th-century artisan.
Benjamin Alire Saenz's story of two teenage loners forming an unlikely friendship, Aristotle and Dante Discover the Secrets of the Universe received dual accolades.   Saenz claimed both the Stonewall Children's and Young Adult Literature Award honoring "exceptional merit relating to the gay/lesbian/bisexual/transgender experience" and the Belpre Award for Text, bestowed upon the author exemplifying an "excellent portrayal of Latino experience in children's literature".
Our extended list of this year's award winners can be found here.  The ALA's detailed breakdown of the awards can be found via the Association's press release.