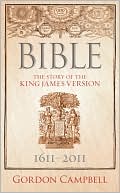 May 2: The Authorized King James Version of the Bible waspublished 400 years ago today. There was immediate controversy over some of thewording—about 80% of which was taken from William Tyndale's Bible; that editionwas so unauthorized that Tyndale was hanged for it. "Tell His Majesty,"wrote one contemporary scholar who had been asked for endorsement, "that Ihad rather be rent in pieces with wild horses, than any such translation by myconsent should be urged upon poor churches."
Althoughthe KJV did not attempt to add or omit any substantial amount of new material,it did introduce chapter summaries, in an attempt to make the content morereader-friendly. Some also opposed these, seeing them as first steps down theslippery slope of editorial comment. Today there is an American Patriot's Bible, which aims to show that "'a lightfrom above' shaped our nation" by, for example, introducing the Book ofGenesis with reference to the Apollo 8 flight. Another such KJV edition is the ExtremeTeen Bible, in which Genesis is introduced as "a bottom-line,this-is-how-it-is, no-sugarcoating kind of book" which "tells us thereal scoop" on people like Adam and Noah, insofar as it includes not justtheir successes but "their mess-ups and their doubts andtheir…well…flops."
Therehave been a number of infamous typographical mess-ups in the many editionspublished over the centuries:
in the "Basketball" edition, "hoopes" instead of "hookes" are used in the construction of the Tabernacle
in the "Vinegar" edition, Luke tells "The Parable of the Vinegar" instead of "The Parable of the Vineyard"
in the "Murderers" edition, Jesus commands "Let the children first be killed" instead of "Let the children first be filled"
in the "Unrighteous" edition, "the unrighteous shall inherit the Kingdom of God"
In the "Wicked" edition, the seventh commandment is "Thou shalt commit adultery"
---
Daybook is contributed by Steve King, who teaches in the English Department of Memorial University in St. John's, Newfoundland. His literary daybook began as a radio series syndicated nationally in Canada. He can be found online at todayinliterature.com.