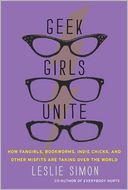 Leslie Simon, the author of Geek Girls Unite, tells us how fangirls, bookworms, Indie Chicks, and other misfits are taking over the world 
When I was younger, all I wanted to do was fit in. I desperately wanted to be cool just like all my friends. I wanted to look good in French cuffed jeans, enjoy listening to New Kids On the Block, and play field hockey without tripping over the ball. Unfortunately, there was an invisible fence around my world that would only let me wander out so far before it jerked me back to reality. I was a horrible faker and couldn't pretend to be someone I wasn't. So who was I? I wasn't a fashionista or boy band fanatic or killer athlete. I was a girl who snuck downstairs to watch "Just Say Julie" on MTV, played "Jeopardy" with my stuffed animals, and acted out my own cooking show every time I had to do the dishes. I was a total geek.
It's taken me a long time to say those words out loud but now that I have the courage to do so, hearing them fills me with a real sense of pride. Geek girls are at the top of our game right now and being an outcast is totally in. Here's how I know:
1. THE SUCCESS OF WHITNEY, 2 BROKE GIRLS AND THE NEW GIRL: Amidst a fall schedule littered with dude-centric comedies that make most intelligent ladies want to facepalm, it's so refreshing to see a gaggle of funny girl geeks taking over the small screen. All three comedies are different in scope — Whitney takes a snarky look at what happens when you live with your boyfriend and don't necessarily want to get married; 2 Broke Girls is an Odd Couple-esque sitcom about a mouthy misfit and penniless socialite who decide to open a cupcake shop together; and New Girl places a recently dumped basket case in the not-so-capable hands of three clueless guys who don't understand women. All offer up female characters we can all relate to.
2. THE REIGN OF FANGIRL QUEEN FELICIA DAY: Up until 2007, Felicia Day was your average aspiring actress. She had a smattering of forgettable roles on her resume (like "Call Girl" in the made-for-TV movie They Shoot Divas, Don't They and "Jessie's Friend" in the doctor drama Strong Medicine) and spent most of her days waiting for her agent to call. Actually, that's not true. She spent most of her days playing World of Warcraft. As a way to keep from falling completely off the acting grid, she produced her own web series called The Guild, which centers on Cyd Sherman (aka Codex) and the group of like-minded misfits she meets on- and off-line while playing an MMORPG game. As of September 2011, The Guild has over 70 million views on YouTube, has generated a limited-series comic book published by Dark Horse and has spawned two viral music videos: "(Do You Wanna Date My) Avatar" and "Game On." In the midst of it all, Felicia Day managed to become a fangirl icon. These days, this Comic-Con darling's dance card is pretty packed: She plays the lead in Red, the SyFy Channel's updated adaptation of Little Red Riding Hood, she lends her voice to the video game Guild Wars 2 and, of course, there's still talk of her reprising the role of Penny in the long-anticipated sequel to Joss Whedon's musical mini-series Dr. Horrible's Sing-Along Blog. People can't get enough of Day's geeky charm and fangirl wit, and instead of forcing her to change who she is to fit in, Hollywood is carving out a place for her — gamer thumb and all.
3. THE LONG-AWAITED RETURN OF JANE PRATT: Her collaborative magazine with fashionista Tavi Gevinson might've gone down the pooper, but that hasn't stopped the former JANE editor from ending her media hiatus to create a new incarnation of her signature Sassy brand: It's called xoJane.com and it tackles everything from fashion dilemmas (i.e. how to fit boots around fat calves) to celeb gossip (i.e. "I Smoked Weed With Joe Jonas!") to embarrassing lady problems (i.e. what happens if Accutane makes your butt bleed?) It's so great to have Jane back.
4. GIRLS GO TO COMIC-CON: When the convention started in 1970, it only drew about 100 people. Fast-forward 40 years, and now nearly 140,000 geeks descend upon San Diego every June, just like the 501st Legion descended upon the Jedi Temple in The Clone Wars…or something. Not only is this a great place to meet your Jedi Prince, but it's also a great place to unite with other like-minded geek girls. However, if you're more interested in meeting sisters than misters, might I suggest attending Geek Girl Con? The first-ever event takes place in Seattle on October 8th and 9th and features expert fangirls like StarWars.com editor Bonnie Burton, Battlestar Galactica writer Jane Espenson, and famed herstorian Trina Robbins.
5. THE FRISKY: I can't do my daily online rounds without landing on TheFrisky.com, an amazing lady-centric site that manages to teach me new things every day — and I'm talking about more than the latest rumors about which Kardashian sister is getting divorced, married, pregnant, or all three. With a slightly less cantankerous tone than Jezebel, Frisky writers (and readers) act more like your all-knowing big sister than the stubborn feminist. Earlier this year, it looked like The Frisky was about to close its beautifully stained doors but, thankfully, Buzz Media adopted the property and the site is now back and better than ever. If you love The Frisky, then you'll also want to check out Zooey Deschanel's lifestyle site, Hello Giggles, which is cuter than a pug puppy in a rain boot.
6. THE TINA FEY EFFECT: So who's the funniest she-geek of all? I have to go with Tina Fey for $1000, Alex. Duh. Like most funny-girl geeks, Fey was a misfit who spent much of her free time mocking high-school classmates who reveled in prom and parties instead of, say, actually getting invited. Fey has also said that she was never a big hit with the guys, admitting on The Late Show With David Letterman that she "couldn't give it away back in the day," which is why she remained—though not voluntarily—a virgin until the ripe old age of 24. However, what she lacked in popularity and sexual prowess, she made up for in drive, motivation and whip-smart humor.
7. THE CREATIVITY OF iCARLY: I might not fit the target age demographic for the über-successful Nickelodeon sitcom, but that doesn't make me love iCarly any less. In fact, I've been singing the show's praises since Gibby first took off his shirt and Sam pressed the "Random Dancing" button on her universal remote control. Finally, a show for tweens that says it's okay for a girl to be cute, smart and extremely tech-savvy. The plot revolves around Carly, played by the adorable (and totally age appropriate) Miranda Cosgrove, and her friends as they navigate through school while participating in a buzzworthy online web series named, you guessed it, "iCarly." Not only does iCarly encourage fan interaction, but videos submitted through the show's site are also incorporated into the action. Can you dig that synergy? I sure can. Now can someone please hand me a spaghetti taco? I'm famished.