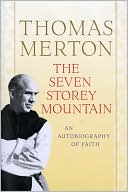 On this day in 1941 twenty-six-year-old Thomas Merton entered the Abbey of Gethsemani, a Trappist Order near Bardstown, Kentucky; and on this day in 1968 the fifty-three-year-old Merton died in Bangkok, a victim of accidental electrocution – a poorly-wired bedside fan, touched while Merton was still wet from the shower. His death was front-page news, coming at the height of his fame as a spokesman for counterculture spirituality, and just hours after his address at a major international conference of religious leaders.
Merton's first, two-week visit to Gethsemani in the spring of 1941 had made an impression: "I had wondered what was holding the country together, what has been keeping the universe from cracking in pieces and falling apart. It is this monastery if only this one…. This is the only real city in America…. It is the axle around which the whole country blindly turns." Eight months later he returned for a second look; after one day of washing dishes and waxing floors in silence, he handed over his fountain pen, wristwatch and cash, a fair exchange for the realization that "conversation was over and done with forever."
He got the pen back, and the encouragement to keep writing. His early volume of autobiography, The Seven Storey Mountain (1948), was a bestseller, and by the sixties he was a celebrity — visited by Joan Baez, quoted by Lenny Bruce, a karma-child to many. He took advantage of the platform, as well as the opportunity to travel and spread the word, but he scoffed at the fame: "I have myself become a sort of stereotype of the world-denying contemplative — the man who spurned New York, spat on Chicago, and tromped on Louisville, heading for the woods with Thoreau in one pocket, St. John of the Cross in another, and holding the Bible open at the Apocalypse."
Whatever form his spiritual quest was about to take, Merton's journal entries in Asia make it clear that he did not expect to be returning to his Kentucky monastery. He had long admitted that a monk's life was a "furnace of ambivalence," and he had become increasingly interested in Zen Buddhism. In his last scripted remarks at the conference he spoke of a religious path that was neither Eastern nor Western, that "should bring us all at last to that full and transcendent liberty which is beyond mere cultural differences and mere externals – and mere this and that." His next impromptu statement, just hours before his death, seems to capture, perhaps eerily, the divergent paths that he and the world were taking: "So I will disappear from view and we can all have a Coke or something. Thank you very much."
---
Daybook is contributed by Steve King, who teaches in the English Department of Memorial University in St. John's, Newfoundland. His literary daybook began as a radio series syndicated nationally in Canada. He can be found online at todayinliterature.com.