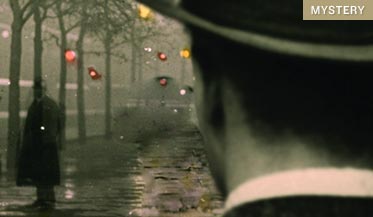 While every historical era has its unique appeal as a setting for tales of crime and detection, the 19th century is exceptional — it brought about so much change on social, political, geographical, and technological fronts that the mix proves to be an irresistible one to mystery writers. How can quality crime fiction not be produced with available subject matters as the Industrial Revolution, the Napoleonic Wars, the creation of organized police forces, the dawn of forensic science, and the rise and fall of Romanticism?

No wonder many of the best examples of 19th-century historical mystery emerge from, or are set in, England during the six-decade rule of Queen Victoria. Anne Perry arguably pens the signature crime novels of this time period, what with one long-running series featuring crime-solving duo Thomas and Charlotte Pitt and another starring William Monk, a London police detective whose bout with amnesia eventually brings about his transition to private investigator. Perry's novels have plenty of historical flavor and Agatha Christie–like plotting, but the main pleasures are in her recurrent characters, most recently seen in Buckingham Palace Gardens and 2006's The Dark Assassin.

If Perry's novels tip their hat partway to Christie, Will Thomas pledges his literary allegiance to Arthur Conan Doyle. The duo of Cyrus Barker and Thomas Llewellyn, first introduced in Some Danger Involved, echo their forebears quite blatantly: Barker is mercurial and enigmatic; Llewellyn, the apprentice narrator, is garrulous and a touch unformed. But as the series progresses and the duo investigate dark crimes in London's most far-flung communities, Llewellyn proves his mettle so thoroughly that by the close of The Black Hand and its investigation into the early forerunners of the Italian Mafia, he is well on the way to a promotion to full-fledged detective.

Although we might think of Holmes as the Ur-sleuth, the seminal inspiration for many writers comes not from the chronicles of Baker Street but from the intricately plotted novels of Charles Dickens and his colleague Wilkie Collins, who in works like Bleak House and The Moonstone established the modern, character-driven mystery novel. Michael Cox's epic debut novel, The Meaning of Night (2006), is the most obvious descendant of Collins's "sensation" fiction, with its hefty page count broken down into hook-laden chapters featuring a multitude of twists and betrayals and melodramatic shocks. This massively entertaining volume, a "confession" of dastardly deeds by hunchback antihero Edmund Glyver, will be followed up next month with The Glass of Time. Similarly antiheroic is Edmund Whitty, the Fleet Street reporter happy to use whatever tactics — underhanded or worse — to get himself in and out of trouble. But even though he's happiest when saving his own skin — and his creator, Canadian broadcaster and author John McLachlan Gray, describes Whitty's self-interest with relish — Whitty's uncanny knack for ferreting out the truth serves him well in The Fiend in Human and especially White Stone Day, whose storyline carries disturbing suggestions of the crimes that can be wreaked against children.

Tasha Alexander's Victorian England has a different feel altogether, perhaps because the sparkle and wit seem to owe more to Regency romance queen Georgette Heyer than to mystery's classic writers. It wouldn't be fair to say that her series of Lady Emily Ashton novels — three books strong with this spring's publication of A Fatal Waltz — lack suspense; the book does hinge upon the murder of a politically powerful yet odious gentleman, requiring that Emily travel to Vienna to investigate. But the joys of Alexander's novels are in Emily's assertion of her natural intelligence, her unwillingness to play by the strict rules of Victorian society, and her desire for the kind of knowledge (and adventure) only Ancient Greek and Egyptian texts can provide.

In other words, Emily Ashton sounds like she would get along famously with Elizabeth Peters's incomparable heroine, Amelia Peabody. First introduced in The Crocodile on the Sandbank (1975), Amelia is an English spinster whose father's death (and timely inheritance) allows her to pursue her long-standing love of Egyptology. Over 18 books — most recently 2006's The Painted Bird — Amelia's far-flung adventures in search of the country's greatest buried treasures mark her as one of crime fiction's premier archaeologists.

America in the 1800s isn't quite the historical mystery hotbed as the same period in the country it bested in the War of Independence, but its unique spectacle of rapid social change, and the lingering influence of its literary voices act in a parallel manner upon crime fiction chroniclers devoted to this side of the Atlantic. Barbara Hambly's excellent novels featuring freed slave Benjamin January naturally touche upon racial inequalities and prejudices, but the series, reaching installment eight with 2004's Dead Water, would not work without January's keen observations and ahead-of-his-time thinking.

Steve Hockensmith also incorporates social change into his books — his most recent, The Black Dove, hinges upon the Chinese slave trade — but his aims are clearly of the entertainment variety. Brothers Otto "Big Red" and Gustav "Old Red" Amlingmeyer travel the Old West looking for work, but as in the Sherlock Holmes stories Old Red loves his younger brother to read to him (Old Red cannot read), the brothers find themselves in a wide variety of adventures around the country that require their unique brand of serious "deducifyin'."

Just as Holmes features directly and indirectly in historical mysteries of the late 1800s, so too does Edgar Allan Poe loom over another subset of fictional history. Both McLachlan Gray and Matthew Pearl have wrested with the conundrum of Poe's mysterious death in Baltimore in 1849 (in The Poe Shadow and Not Quite Dead, respectively) while Louis Bayard's sumptuous thriller The Pale Blue Eye uses Poe's time at West Point as a backdrop for nearby murder that must be investigated by New York State detective Gus Landor, all the way to its shocker-like ending.

Finally, Victorian attitudes weren't perfectly parallel to those that dominated 19th-century Russia, but mystery writers have made this setting their own in a similar manner. After all, Fyodor Dostoevsky's novels, once translated into English, first found an accepting audience in Victorian England, so it only follows that R. N. Morris's two mysteries starring Porfiry Petrovich would curry similar favor today — since Petrovich first saw literary light in Crime and Punishment. Morris's re-imagining gives Petrovich a number of gruesome mysteries to solve in A Painted Axe and now in A Vengeful Longing. Boris Akunin's internationally successful novels also depend on pastiche, but his gift is in using the ornate trappings of tsarist Russia as a means of playing with classic genre tropes. Erast Petrovich Fandorin, the dandyish sleuth whose 12-book series made Akunin a phenomenon, owes a great debt to Sherlock Holmes and C. Auguste Dupin in both personality and investigative technique. What makes Fandorin a unique detective, however, is his very Russian-ness, at a time when identity issues reflected the Russian monarchy and a sumptuous lifestyle that only existed for a small subset of the country's population.

In other words, Akunin doesn't hide his goal of writing intelligent entertainments that brush off any aspiration to greater significance. The six Fandorin tales translated to date take on a different mystery subgenre, from action-adventure (The Winter Queen) to spy novel (Turkish Gambit) to locked-room mystery (Murder on the Leviathan) to, most recently, "The Decorator" (featured in Special Assignments, published earlier this year) where Fandorin battles Jack the Ripper and uncovers a plausible and terrifying explanation for the feared serial killer's reappearance in Russia.

* * *

The death of Queen Victoria in 1901 marked the end of her rule and of the larger era, bringing in a sense of upheaval that only accelerated with World Wars One and Two. That period will be the focus in our next, and last, stop on this historical mystery tour.