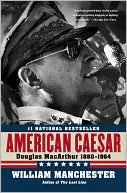 L'affaire McChrystal speaks to us in many ringing registers. On the political frequency, it was a career-ending move because it challenged our inviolate national conviction that the military must always be under civilian control. On the level of discourse, it's part of a long and ironic tradition of private griping about one's superiors. Both of those narratives are persistent themes in literature and cinema, and here at Reading the Headlines we'd like to direct your attention to this small militia of summer-reading relevancy.
American Caesar – William Manchester
With President Truman's sacking of General MacArthur as the default comparison for the cashiering of General McChrystal, the historically inclined might want to pick up either William Manchester's definitive biography, or MacArthur's autobiography Reminiscences, which was written "in his own hand" (meaning no ghostly amanuensis) as the contemporary promotional materials pointed out. Because MacArthur writes with muscular, military precision, his occasional rhetorical flourishes are all the more commanding. Apparently, like old generals themselves, their memoirs also fade away; Reminiscences is out-of-print.

Seven Days in May – Fletcher Knebel and Charles W. Bailey II
An unhinged military is the plot engine of this tautly strung best-seller from back in the early 60s. We were post-McCarthy, inhabiting the paranoid chill of the Cold War and free-floating nuclear anxiety. A military coup d'etat is planned against an unloved, peacenik, Russkie-coddling president; when President Kennedy read the book he concluded that the scenario wasn't all that outlandish. The John Frankenheimer movie – with a screenplay by Rod Serling, and starring Burt Lancaster, Kirk Douglas and Ava Gardner – is queue-able.

Prisoner without a Name, Cell without a Number – Jacobo Timerman
It could be said that the moral presence of Prisoner without a Name, Cell without a Number exists in the universe as a constant reminder that military dictatorships don't reside exclusively in the imaginative realm of democracy hypochondriacs and speculative fiction.

That journalist and editor Jacobo Timerman's account of his 30 month captivity and torture during Argentina's military dictatorship in the 1970s has become a classic is both deserving and unsettling the latter because "classic" puts us at a safe and dangerous remove from its immediacy.

Catch-22 – Joseph Heller
In a much-discussed piece, New York Times columnist David Brooks wrote that "…McChrystal, like everyone else, kvetched." I'm not sure that McChrystal's complaints rise to the highy art of military kvetching – which the Times no longer condescends to reduce to italics – particularly when compared to the kvetch-all masterpiece Catch-22. Heller's masterful construction is the ultimate in transcendent mockery, the kind that makes McChrystal's reluctance to open a Richard Holbrooke email seem like a benign diss.

A Mencken Chrestomathy – H. L. Mencken
Columnists get medals for the very acts for which generals get discharged. And when it comes to skewering the privileged and the powerful, the leader of the counter-insurgency has always been H.L. Mencken. Dip into Mencken this summer, and the talking heads on cable TV will seem like shallow, over-throated imitations of true and glorious venom.

Lincoln and McClennan: The Troubled Partnership Between a President and His General – John C. Waugh
Short of the discovery of a homoerotic relationship between President Lincoln and General McClennan (not that there would be anything wrong with it), I can think of no more fortuitous event for the historian John C. Waugh than the slap of attention that the news from Afghanistan has created for his subject. Just published in May of this year, Waugh's book neatly lays out the psychodrama and battle history that led to McClennan's firing, and ultimately his race against Lincoln for the presidency in 1864.


Selected Letters of Martha Gellhorn – edited by Caroline Moorehead
It would be a highly productive act of headline reuse and recycling if we chose this opportunity to spend the remainder of the summer reading the letters of the smartest, sexiest, and most fearless war correspondent of them all. Martha Gellhorn covered the Spanish American War, World War II (where she impersonated a stretcher-bearer because her then-husband Ernest Hemingway stole her press credentials), Viet-Nam, the Six-Day War, and side-shows like our invasion of Panama. Gellhorn's war reporting and novels are brave and fine, but her letters – with correspondents ranging from Eleanor Roosevelt to H.G. Wells, Bernard Berenson, Adlai Stevenson and Leonard Bernstein – are a sharp and spirited introduction to her work. And she never got anyone fired.

Manual for Courts-Martial – the United States Joint Service Committee on Military Justice
The official guide, promulgated by executive order. For the obsessively curious; perhaps someone at HBO is reading this now, in preparation for a "what might have been" movie.
---
Adam Hanft is a nationally-known cultural critic, an authority on social trends and branding. He is the founder and CEO of Hanft Projects, and blogs for the Huffington Post, The Daily Beast, Fast Company and Politics Daily. He is also a frequent commentator on National Public Radio's Marketplace, and is the co-writer, with Faith Popcorn, of The Dictionary of the Future. You can follow him at twitter.com/hanft.