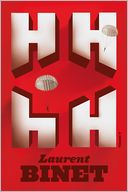 Dear Reader,
How best to describe Laurent Binet's novel-not-novel HHhH?
I read it in a single sitting, and I couldn't turn the pages fast enough, for Binet's narrative (and Sam Taylor's translation) propels the story forward, even with all its digressions and asides.
"A jaw-dropping high wire act of a novel," says the reader who first championed Binet's book to the rest of the selection committee.
"A perfect fusion of action and the avante-garde that deserves a place as a great WWII novel," says Publishers Weekly.
"[A] literary tour de force…a gripping novel that brings us closer to history as it really happened," says The New York Times.
"Binet has produced the only essential piece of World War II fiction in years." Jessa Crispin's review of HHhH in the Barnes & Noble Review is here.
I had to know what drew Sam Taylor to translate HHhH, and this is what he wrote: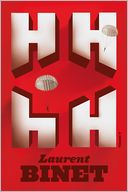 A Literary Electrical Storm
by Sam Taylor
The story of how I came to translate Laurent Binet's novel HHhH is somewhat long and tortuous. The story of how I fell in love with it, however, is much simpler. As a novelist who was struggling to make a living from writing novels, and who had been living in France for the previous decade, I had decided that literary translation was an obvious choice as a second career. Accordingly, I asked my editor at UK publisher Faber & Faber if he had any French novels that he'd like me to read and critique (this is, in hourly terms, one of the worst-paid jobs in the world, but it's also probably the only way for a wannabe literary translator to get their first gig), and a week or so later, he emailed me the pdf of HHhH with the request that I have a report for him within 48 hours.
For the next two days, reading this book was pretty much all I did. Thankfully, it was not merely good, but brilliant: an account of the assassination of über-Nazi Reinhard Heydrich in 1942 that startled with the sheer originality of its telling and stunned with the extraordinary brutality and heroism of its story. I loved it, but — just as Binet confessed struggling to write a book that did justice to the true historical events — I admit I found it very difficult to write a report that did justice to such a wondrous, multifaceted book.

This was the first paragraph of the report that reached my editor the next day: "HHhH is an unusual, clever, funny, elegantly written, and ultimately very moving and compelling book. I was going to call it a novel, but I'm not sure that's actually what it is. Then again, what else can you call it? Although more scrupulously factual than most history books, it is too full of emotion, whimsy, opinion, and apparent irrelevancies to qualify as a work of history. Although often drifting into personal revelation, it is not an autobiographical memoir. And despite certain passages and chapters which might suggest otherwise, it is definitely not a work of literary criticism or philosophy. So how to categorize it? I don't know. A 'nonfictional novel', perhaps."

He replied that it sounded interesting, but he didn't think he'd be bidding for it. I was extremely disappointed. Luckily, the UK editor who won that auction — Stuart Williams at Harvill Secker — asked to read my report, which he'd heard about through a colleague. I sent it to him, along with a not very subtle hint that I would love to translate the book. Stuart wrote back to say that I was not the only one: more than a dozen translators had told him and the book's American editor (Jesse Coleman at Farrar Straus Giroux) the same thing. So they had decided to ask for sample translations, and to choose their translator based on those.

I duly translated the book's first 10 chapters (thankfully, most of the chapters are very short: between one line and three pages long) and sent them to those two editors. A few weeks later, I was pleasantly amazed to discover that I'd been given the job. Translating HHhH was a labor of love, and what was envisaged as my second career has, in only two years, become my primary career. But the most satisfying and exciting part of this long process has been reading the first reviews of HHhH as they've come in during recent weeks, and seeing my own ecstatic-but-hardly-able-to-articulate-it reaction to the book being replicated on a mass scale.

Laurent Binet's non-fictional novel is a literary electrical storm. It was my pleasure and privilege to have served as its lightning rod.
Cheers, Miwa
---

Miwa Messer is the Director of the Barnes & Noble Discover Great New Writers program, which was established in 1990 to highlight works of exceptional literary quality that might otherwise be overlooked in a crowded book marketplace. Titles chosen for the program are handpicked by a select group of our booksellers four times a year. Click here for submission guidelines.