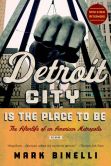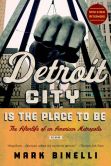 Dear Reader,
Place is so much more than topography or social fault lines, political history and census data. Capturing capital-P place – the soul, the machine, the people, the ethos thrumming just below the surface – is one of the most challenging aspects of the writer's task. But when it comes alive through vital, zig-zagging prose like Mark Binelli's in Detroit City is the Place to Be (a Holiday 2012 Discover pick, now available in paperback, with a new afterward by the author), the results are unforgettable.
As a colleague of mine notes: "Subtly blending memoir, analysis, and reportage, his Detroit City Is the Place to Be portrays a once-thriving metropolis that is fast becoming a test kitchen for new ideas in urban planning, environmentalism, and up-against-the-wall experimentation. The only book on Detroit that will keep you up late reading."
"Detroit is an opera, it's Mount Everest": A Conversation with Mark Binelli (which includes terrific book recommendations) is here, but because we can't get enough of Binelli's wry reportage, he generously sent along this guest post for the Discover blog.
A Peruvian Investor Walks into a Packard Plant
A Guest Post by Mark Binelli
A Peruvian investor recently purchased the Packard Plant, the iconic Detroit ruin, closed since the nineteen-fifties and sprawling over 40 acres. Fernando Palazuelo, the proud new owner, forked over $400,000 for the factory, which he described to Bloomberg News as "the best opportunity in the world." He plans to live on the premises, with the future rehab transforming the mouldering site, in the words of the article, into "a vibrant hub of automotive suppliers, offices, shops, lofts and maybe even a go-kart track…"
Some have mocked Palazuelo, but I say: Go for it! Though I do wonder what will become of Al Hill, currently the Packard Plant's only resident. He's become a local micro-celebrity in recent years, having been profiled in the New York Times and featured by Anthony Bourdain's on his CNN show. I met Al before he was famous, when I was living in Detroit and writing Detroit City Is the Place To Be. A mutual friend introduced us. Al was in his sixties, with stringy, shoulder-length hair and a habit of staring warily over his shoulder, as if on the lookout, on some distant horizon, for some awful approaching horde. He lived in an old forge room, where he also ran an auto repair shop.
I stopped by to visit him one day. The Packard was five stories, stretching across two sides of a major road. Huge chunks of wall had collapsed to reveal the gray innards of the place, and gangly, stoop-backed trees hugged the walls like ivy. Pulling into one of the alleys running between the buildings, I spotted Al and another man in front of the open garage door of Al's space, working on a car. Al was wearing the same outfit he'd been wearing when I met him, a few days earlier: a soiled blue mechanic's jumpsuit and a cap that read "Jesus Is My Boss."
Al's converted forge space was packed with engine blocks, broken-down cars and an old camper. "Sometimes I get twenty visitors a day," he said. As if on cue, a few moments later another car pulled up and a Parisian family emerged to take pictures. The daughter told us she'd read about the Packard in the French version of Lonely Planet. The father had a camcorder hanging around his neck. They had just come from Michigan Central, the ruined train station designed by the same architects who'd built Grand Central Station. Al said he lived in the "most photographed place in the world." My friend Corine, who'd also come along, asked, mischievously, "More than the Eiffel Tower?" Al said, "Oh, yeah." The French family's English wasn't the greatest, and they didn't seem to understand the exchange.
Eventually, the family departed and Al led us into the main part of the factory, a cavernous space strewn with tree branches and rubble. Graffiti covered a number of the cinderblock walls, and where the ceiling had caved, jagged chunks of cement hung precariously from gnarled rebar. Further inside, certain passageways were dark as caves; other rooms, bathed with light streaming through holes in the roof, looked like gallery spaces, a shattered pallet on the floor seeming carefully illuminated by a curator. Al said some movie scouts had just come by. In order to kick-start its moribund Rust Belt economy, Michigan had begun offering massive tax breaks to Hollywood producers willing to film in the state, and so the makers of Transformers 3 had decided to shoot some action sequences at the Packard.
Rounding a corner, Corine exclaimed, "Wow! A car!" Sure enough, in the next room, we saw the grey, ashen husk of what used to be an automobile. A torched car in the ruins of a factory in the middle of Detroit — this was symbolism even Oliver Stone might have rejected as a bit heavy-handed. Still, we took a closer look. "Oh, yeah," Al said. "They brought that in here and set it on fire one day." By "they," he meant car thieves. I asked when that had happened. "Oh, about a week ago," Al said. Nothing was left of the car's interior. The glass from the windshield had actually melted onto what remained of the dashboard; likewise, the tires had been burned away, leaving only bare wheel wells and the now unruly steel whiskers that had girded the rubber. "Steel-belted radial tires," Al noted. "Looks like a Focus. Some kind of Ford, anyway."
Al told us he'd been born in Detroit. Both of his parents had worked in factories. Al had gone to Sunday school once as a kid, but wasn't saved until he was sixty-one. He said he'd been living in his shop for the past five years. "It's as peaceful as the North woods," he said.
We followed Al into a stairwell. The stairs had no railing and were strewn with plaster and bits of brick and wood. We climbed past broken windows overlooking the street below. Eventually, we emerged on the next floor, where a massive portion of the roof had collapsed. The room was endless, nothing but bare cement and stark white columns. The ceilings had been stripped of wiring, leaving only empty pipes and little stalactites, a sickly grey color, formed after years of exposure to the elements. The factory had been the first major project by Albert Kahn, Henry Ford's great industrial architect, who had pioneered the shift from wooden factories to reinforced-concrete bunkers.
We took in the post-apocalyptic grandeur. Al would periodically bring up something Jesus-related. He still avoided eye contact while he spoke. "Keeps on getting worse in here," he said. One of the footbridges connecting two of the buildings had collapsed after a group of scrappers had tried to cut out the structural steel. "I watched one of them limp away," Al said. Firefighters would no longer enter the plant. The place had been deemed too unstable. The last time there'd been a fire, they watched from the street, waiting for the blaze to burn itself out.
As we started to make our way back outside, a bird sailed over our heads and slammed into a window, crashing to the floor. Al immediately dropped to his hands and knees and began crawling over. The bird, a little brown-and-grey sparrow, twitched on the ground. Al brought his face close to it and murmured something we couldn't make out. After a moment, he stood up. The bird remained on the ground, stunned, but still breathing. Al nodded towards the exit and said, "I prayed for him. He's gonna be okay." –Mark Binelli
---

Miwa Messer is the Director of the Barnes & Noble Discover Great New Writers program, which was established in 1990 to highlight works of exceptional literary quality that might otherwise be overlooked in a crowded book marketplace. Titles chosen for the program are handpicked by a select group of our booksellers four times a year. Click here for submission guidelines.