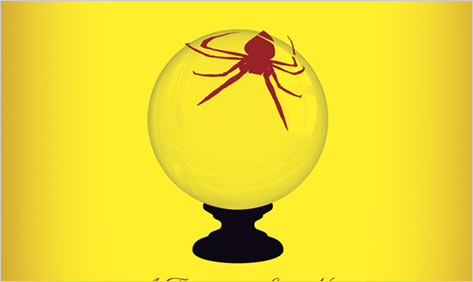 Alan Bradley's audience is hard to pindown. With an 11-year-old detective at its center—to whom the word"precocious" seems to inevitably apply—his award-winning Flavia deLuce mystery series occupies that slippery and subjective space between"young adult" literature and the traditionally grown-up mysterygenre. Carefully rooted in a historically precise mid-century England, theseries that opened with The Sweetness atthe Bottom of the Pie nevertheless spins analmost Gothic mood around the doings of its feisty heroine, a girl whose keeninstincts are matched by her innate powers of deductive reasoning.
WhenA Red Herring Without Mustard—the third book in theseries—opens, Flavia is getting her fortune told. "You frighten me,"says the soothsayer, "Never have I seen my crystal ball so filled withdarkness." But little does the gypsy woman know, living in her caravan atBucksaw, that this prophecy, in fact, portends her own demise.
WhenFlavia later discovers the gypsy crumpled in her caravan, bloody and beaten,she immediately suspects that the crime is an act of revenge—a reprisal bysomeone wrongly convinced that the gypsy was to blame for the decades-oldabduction of a local child. But in the midst of her mulling, Flavia findsanother corpse, this one an infamous derelict once caught loitering on the deLuces' grounds. She sets off on her bicycle for the countryside and beginscollecting clues that will help her solve these gruesome enigmas. On herjourney, she meets a dashing painter who possesses a mysterious portrait, onewhose subject matter and history might just be able to tell Flavia about herown inner workings and provenance. It's up to Flavia, with her virtuosicresearch skills and knack for toxicology, to parse the mystery and extract thetruth from the falsehoods.
Not only does Bradley knowhow to make us turn a page, but A RedHerring Without Mustard—like TheSweetness at the Bottom of the Pie and TheWeed That Strings the Hangman's Bag before it—has an inventiveand witty protagonist, fully developed characters, and an acutely specificmilieu: the land-rich, cash-poor gentry of rural post-war England. It's arichly imagined world—one that readers can navigate with delight and rapture.Bradley's message is a noble one that should not go lost on his youngestreaders. Flavia's charm shows that intelligence comes with not only ethicalresponsibility but with moral satisfaction too.
---
AliceGregory is a freelance writer living in Brooklyn. She's written for The NewYork Observer, n+1, New York, and NPR, among otherpublications.