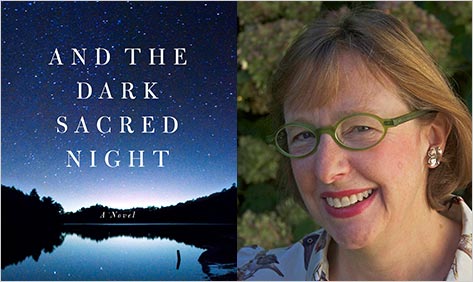 When Julia Glass won the 2002 National Book Award for her debut novel Three Junes, her acceptance speech turned on "one of the most intimate and fulfilling relationships we have in our lives," the ongoing love affair between reader and book. It was a fitting tribute to the immersive power of reading from a writer dedicated to the mysterious springs of tension coiled within the most ordinary of familial bonds.
That love affair has had its corollary, in Glass's case, with a return of affection for her characters that has brought her back in successive works to further explore the lives mapped in Three Junes. A dozen years and four novels have passed since Glass first introduced Fenno McLeod, owner of a Greenwich Village bookstore and child of a loving but repressed and secretive family. Fenno's confrontation with his own emotional seclusion – and its price — was the center around which Glass's tripartite debut revolved. In her next book, The Whole World Over, Glass summoned Fenno to play a supporting role in a neighbor's story, creating as she did not a sequel but a sense of a community that lives on between the pages of her works of fiction.
And the Dark Sacred Night brings us back to that luminously imagined world, returning to figures – including Fenno – who first appeared in Three Junes, but with a sharp new focus on an unresolved mystery from that novel. That mystery haunts the stalled life of a young man named Kit Noonan, the unacknowledged child of music critic Malachy Burns, who Fenno nursed through his death from AIDS. Out of Kit's unpredictable journey to encounter a family he's never known, Glass constructs a delicate chamber piece of a novel, in which familiar and fresh themes intertwine with what becomes, in the end, symphonic power.
Julia Glass spoke with me by phone about her new novel, dogsledding, eavesdropping and daydreaming on the job. The following is an edited transcript of our conversation. — Bill Tipper
The Barnes & Noble Review: Your new novel connects to a part of your first novel, Three Junes. But can you talk a little bit about where the full story of And the Dark Sacred Night came from?



Julia Glass: Each piece of fiction that I write emerges from a single character, who takes shape gradually, until I can hear his or her voice. Over time, it's occurred to me that my protagonists all originate in some aspect of myself that I find myself questioning or feeling uncomfortable about. In usually takes a while for that character to gestate, but sometimes, as with Percy Darling in The Widower's Tale, the character pops into my mind almost fully formed.

In this new novel, I've brought Fenno McLeod back from Three Junes for the second time — the first was in The Whole World Over. That was a surprise to me. I never expected to return to previous characters. I knew that readers had loved Fenno, and when I found him reemerging in The Whole World Over, I wondered if I was clinging to him out of second-novel insecurity. As it turned out, his presence was natural and logical. But I did not expect to visit Fenno yet again, as I have in And the Dark Sacred Night. I don't write sequels — each of my books stands alone — but I can no longer deny that I'm prone to some kind of fictional nostalgia.

Revisiting Lucinda Burns, however, was deliberate from the start. She's a character I wished I could engage with more deeply, even though she's one I had trouble "engineering." Some characters just come to me organically, while others take more effort. In Three Junes, I needed Malachy Burns to have a deeply observant Catholic mother, to maximize certain tensions as it becomes obvious that he is dying.

I remember struggling to bring Lucinda to life — I wanted her to be demanding but also generous — and then I fell in love with her. But she was designated to take up only a certain amount of oxygen in the room.

BNR: Three Junes was a novel that was already populated with several very, very strong characters, many of whom demanded their own time.

JG: Right. And certainly, Mal is a very vivid character. So it made sense that he would have a vivid mother. As with Fenno — and all the character in Three Junes — I thought I'd left them both behind for good. But then, as I mentioned before, Fenno McLeod came back in The Whole World Over. He met Walter Kinderman, with whom he found companionship and love, and then I moved on, still certain that I was done with the cast of Three Junes. But a couple of years ago, I found myself wondering if I could find a way to revisit Lucinda Burns, to write about her from her own point of view.

Yet I didn't see her as the prime protagonist of a novel. So I actually went back and skimmed Fenno's section of Three Junes, in which she appears. Was I remembering her accurately? Was she really so captivating? I'm also a stickler for continuity, so if I was going to bring her back to life, I'd better do it accurately.

For one thing, I knew I'd have to confront the secret that's revealed after Mal's death; it's like a retroactive subplot, about this child that he had conceived as a teenager. Fenno finds out about it when he discovers a box of letters and photographs under Mal's bed.

BNR: Your novels are so full of these sort of secrets, the hidden parts of your characters lives. You bury them like treasures at select places through your stories.

JG: In fact, when I decided to give Mal an "illegitimate child," for want of a less judgmental term, a child he had never known, that was fairly late in the book. So through subsequent revisions, the burden of that secret influenced Malachy's nature. If you were to reread Three Junes, you might or might not notice hints in the way he behaves or reacts to certain remarks. He doesn't know the child, but he he knows about him.

At the same time I was thinking about Lucinda, I got the impulsive notion that I wanted to write a quest novel, a story in which a hero or heroine sets out to find something, or to find something out. I love those kind of stories. Of course, in a great quest story, whether or not the protagonist finds the object of the quest, it's what happens along the way that matters most. So what if I wrote a story about this child whose pictures were in that box under Mal's bed? What if that character were the hero of this novel and, through searching for his birth father, he finds Lucinda Burns? That's when I knew I had the story I wanted to write.

And then I had another "sign": I had recently become close friends with a woman who is one of eight adopted children. I knew that she had, before I even met her, searched for and found the identity of her birth mother — who was no longer alive. Now she told me that she was going to see if she could find out the identity of her birth father — an enormous challenge.

She talked with me not only about her feelings and her experiences as she searched for her birth parents but also about the parallel experiences of her siblings, their different feelings and approaches and desires surrounding whether or not to find birth parents. The timeliness of these conversations was just too rich. I thought, "Well, clearly I am supposed to write about this subject."

An interesting thing that my friend talked about was how the girls in her family were the ones more likely to search out their roots. And in subsequent conversations with psychotherapists, I heard that, in general, men are more reluctant to search out birth parents than women are. It may be biological; perhaps as women approach the age when they know they may have children of their own, they want to know more about their genetic identity. Men are more ambivalent.

BNR: It's his wife, Sandra, who says, "This is what you need to do. You need to go find the real story about your birth father."

JG: Right. That detail came directly from another acquaintance, who disclosed to me that her husband was adopted and that she fervently wanted him to seek out the identity of his birth mother, but he refused. He loved his adoptive parents, who were still alive, and felt no desire to do something he felt would hurt their feelings. Her talking to me about how she felt it might change life for their children — and how she felt that, even though he denied it, these "shadow parents" had a strong hold over her husband's psyche — all that influenced the story I was writing.

As always, I knew the plot would emerge from the characters. I believe E.L. Doctorow once said that when he writes a novel, it's like driving at night down a long highway, where all you can see is the short stretch of road in the headlights, but you're confident you'll reach your destination. I paraphrase — but I agree completely. That's what it feels like for me, too.

BNR: It's interesting that you use that metaphor, given that you've taken And the Dark Sacred Night as the title of this book — quoting a lyric from Louis Armstrong's "What a Wonderful World." Kit is going forward through the complete unknown, hoping that he'll get to a destination that makes sense.

JG: There is a lot of groping in the dark here! [LAUGHS] That's true for a lot of my characters — and for me!

So even though I did not suddenly envision the entire plot, I knew the source of the momentum, and I knew where the book would start. The ultimate structure of the novel, in which the primary narrative is interspersed with snapshots from the distant past, fell into place very late, after I'd turned in a full first draft, thanks to suggestions from my very astute editor.

At the outset, however, I knew this much: the story would begin with Kit setting forth on his quest, and at some point he would intersect with Lucinda — and, through her, with Fenno. But as always, new characters caught my attention along the way — most notably, Jasper, Kit's onetime stepfather.

BNR: Jasper arrives with an incredible charisma and presence in the story.

JG: I seem to like cranky old men. My agent confessed that when she started reading that section, she thought, "Uh-oh, it's Percy all over again."

BNR: He has very much a life of his own here, I think, in his various preoccupations, self-recriminations and personal strengths.

JG: I love it when this happens. Just like Lucinda, he's a character whom I created to fulfill a narrative purpose, and then I became absolutely captivated by him. But there was more room in this book for Jasper to blossom fully as a character. That Vermont — in winter — would end up being such a major setting for this book was another surprise. Though I'm a New Englander, I'm very indoorsy once the mercury drops. I do not ski (or figure skate or snowshoe or ice fish). Like Kit, I'm terrified of being dragged down a mountain by gravity. My sister, however, reveled in the great outdoors, and when she went to the University of Vermont, we spent a bit of time touring the shore of Lake Champlain (in warm weather!). That was the inspiration for the elite music camp that's one of the other two Vermont settings. The farm on which Lucinda has spent most of her life is, of course, the third.

BNR: I am going to try to avoid spoilers, but — you've never supervised the rescue of snowbound backcountry hikers?

JG: Definitely not. Though when I realized that dogsledding would figure in this novel, I thought, "Oh boy, I can splurge on a dogsledding adventure (wrapped in blankets), and it will be tax-deductible!" I had read about places that offer dog sledding in New Hampshire. But that was the winter — two years ago, I think — when there was virtually no snow in these parts. So no dogsledding. Thanks to the Internet, I was able to watch YouTube videos of what it's like to be in the sled, and to read about dogsledding. But I feel a bit robbed.

BNR: There's still time.

JG: Yes, it's true, though I'm getting a little stiff in my old age. And will it still be tax-deductible?

BNR: So Jasper — Ski Bum Number One, as he's called — is tied up with the ski industry and with kind of living this self-sufficient, semi-outdoorsman life. But he is not a caricature. He is a modern person, and has his relationships at work, and has his resentments and a level of forgiveness that he is able to muster over Kit's mother having left him, and he has a wonderful relationship with Kit. That's one of the prime joys of the book, is the discovery of that.

JG: Yes, and in fact it's a rediscovery. Because Kit's mother left Jasper, years before, they've lost touch.

BNR: This is Daphne, who had Kit at a very young age.

JG: Yes. And her life was obviously turned upside-down by that pregnancy. Here she is — as the reader first meets her — a young, gifted musician, given this chance to be at an intensive camp for prodigies, but what happens that summer leads her toward a very different life than the life about which she's fantasized.

BNR: Daphne is a character that we see mostly, at first, in Kit's own flashbacks. As that seventeen-year-old prodigy, we come to her gradually, at first only in brief exposures. You show something emerging from her, a force of character that causes her to be very committed to certain things, while she remains uncertain and irresolute about others. She becomes a very powerful figure as a single mother in her son's life.

JG: Yes. And I know there are readers who won't like her, or who won't approve of certain choices she makes. But in being true to portraying the life of someone who made such dramatic compromises, who had to raise a child almost entirely on her own, her stubbornness and her protective selfishness seem accurate to me. Both her determination to hold close the secret of Kit's paternity and her decision to leave Jasper seem logical, even forgivable, when you see the betrayal and abandonment she experienced at such a young age. And despite whatever bitterness she harbors, her love for Kit is always strong.

Daphne is a character that I do not expect readers to love, yet I hope they will understand and possibly empathize with her. From a writer's point of view, those characters are the trickiest to portray — but it would have been unrealistic to make her a completely magnanimous, selfless mother.

In my original draft, there was a long section told entirely from Daphne's point of view. The reader saw her present life, fully fleshed out, as well as a more detailed account of her fateful summer at the music camp. My first draft is always way too long; my books start out with delusions of War and Peace — and must be gently disabused. My editor is brilliant at talking me to the point where I do all the necessary cutting on my own. I like to say she's a midwife, rather than a surgeon. But in this case, it also became clear that the reader wouldn't want to spend so much time inside Daphne's skin. So in the end, you encounter her almost entirely through her son's eyes — and then, toward the end, through Fenno McLeod's perspective.

I've never written a book in which I cut away so much of a single character as I did of Daphne. Whole worlds were lost: her relationship with her second husband and Kit's half sister; her life as a high school music teacher; a much more involved account of life at the music camp. It's interesting to note that Daphne teaches people of the age she was when her life was effectively derailed.

But I have no regrets about the cuts I made. Writers giveth life — and they taketh it back.

In a way, the most important mother in the novel is Lucinda — bringing me back again to the initial spark of this entire story. And here's where I've returned to a subject that never ceases to fascinate me: the relationship between older parents and their grown children — especially the paradoxical tension between longing to be close to one's children and not wanting to know their deepest secrets. That was very much on my mind in The Widower's Tale; one could even draw a certain parallel between Percy Darling and Lucinda Burns, though they are very, very different individuals.

BNR: Yes.

JG: Lucinda, like Percy, clearly has a favorite child, however guilty she may feel about it. Though she lost this child decades ago, she's in perpetual mourning for Mal, who was both her most difficult and her most special child. She also has a very successful daughter — Christina, who, like her father, is a lawyer — and then her youngest child, Jonathan, whom she's never known all that well. She thinks she resents the distance — until he opens up; when he does, she regrets what she learns.

As someone who's lucky to still have two living parents even as I approach sixty, I often feel panicky at the thought of things I'll never know about their past. But do we really want or need to know everything? And would our parents really want to know everything about us? At one point in the novel, Daphne pushes back against Kit's probing and says something like "You've been brainwashed by this psychotherapeutic generation of yours that believes it should know everything. You don't get to know everything." She has a valid point! The urge toward self-revelation in our society goes too far. Privacy, as we all know, is an endangered privilege.

BNR: People have asked you a lot about your background in visual arts and painting, and certainly that's evidenced here, as it is in other novels that you've written. Kit Noonan is an art historian, for example. But music plays an extraordinarily important role in the lives of the characters — something that's true of your other novels, but especially so here. It's an important element of the story in that it's a camp for real musical prodigies that Malachy and Daphne meet at, and that both of them are reacting to as they are discovering themselves as young adults. But even beyond that, music keeps threading through. Classical music, the American Songbook, and rock 'n' roll all thread through this book and these characters' lives. Were you more conscious of that in this novel than in previous books?

JG: Oh, yes. Music is much more important in this book than in any of my others. I enjoy music in an untutored, childlike way, and my experience as a "musician" would be limited to the singing I did in my high school glee club, so for this novel I did a lot of quite enjoyable research. I owe a huge debt of thanks to my friend Edward Kelsey Moore, who besides being a talented novelist (The Supremes at Earl's All-You-Can-Eat) is a professional cellist. A lot of what he shared with me, about music and musicians, hit the cutting-room floor, but I am the richer for it.

In every novel, I write about something — a place, an experience, an emotion — with which I'm intimately familiar, but it's also crucial to me that I take on challenges. If write only inside my comfort zone, I'll suffocate. Here, among other things, I tackled the search for an unknown parent and the experiences of an ambitious, gifted young musician.

As an aside, I'll tell you a funny story. When the publisher was showing me potential jackets for the book, one of them portrayed the neck of a cello against a bright red background. This is partly because I joked to my editor, "All my books are blue and green; do I ever get to have a red jacket?" She and I thought this image a real possibility. Then, apparently, another senior editor, catching a glimpse of the image, said, "Don't tell me that's a book jacket. Listen: if a reader thinks a novel is going to be about the classical music world, it's the kiss of death; you won't sell a single copy." So we deep-sixed that jacket!

BNR: I want to talk for a moment about your approach to dialogue. You give us a very organic sense of conversational back-and-forth, often between parents and children, in ways that feel very much like we're eavesdropping. Does it simply come into your ear and you go at it that way? Do you have to radically cut down what you've written?

JG: The lion's share of "writing," for me, is the daydreaming I do when I'm alone out in the world — driving, shopping, walking the dogs. That's when I make all the big decisions about my characters, their choices, the twists in plot. Dialogue is the only thing that I write spontaneously at the keyboard. I think of it as the way I listen to my characters (as opposed to the rest of the time, when I'm telling them what to do).

When I sink down deep into writing dialogue, it feels like eavesdropping, for page upon page upon page; later, when I read it over, I laugh at how long these conversations are. In The Widower's Tale I wrote a Thanksgiving dinner that I realized had gone for almost thirty pages without anything much happening. But I learned so much about the relationships of the characters at that table! Still, I had to go back and delete most of it.

And in the first draft of a conversation, everybody sounds like me. Only over many revisions do I differentiate characters' habits and tics, any regional or age-related vernacular. Whether someone is, say, very well educated or very emotionally expressive, or prone to using slang, that involves a lot of conscious crafting.

Another character I enjoyed bringing back, in part because I love the way he expresses himself, was Walter Kinderman, from The Whole World Over. Walter is a man who rigorously avoids swearing, but he's also a former actor, so he's theatrical and flamboyant. Also opinionated; also romantic. I love giving voice to Walter. Fenno, on the other hand — somewhat ironically, since I've spent more time with him than any other character of mine — is a lot harder to "hear," in part because he's extremely introverted, very reticent — and, as a Scotsman, from a different culture than the one I take for granted.

BNR: One of the things that I love about this book, and that I have loved about your past work, is the frequency with which memorable aphorisms appear. They kept sneaking up on me. Many of them come out of Fenno's consciousness, such as when he and Walter are describing their time with the therapist, the couples therapist that they see, and Fenno describes the Asian decor of the therapist's office, and I think many of us who have been in therapists' offices will sort of recognize the theme. He notes, "One man's midlife crisis was another man's Hiroshige block print."

JG: [LAUGHS] I was very proud of that line. So thank you.

BNR: You should be! It lands with a certain recognition. In another moment, you write: "But saints, like tyrants, fall hard. Saints are merely tyrants in the kingdom of virtue." So you arrive at these turns of phrase that, despite the naturalness of these exchanges and the internal reflections that your characters engage in, create ripples like a pebble dropped in a pool. Do you work hard at those moments?

JG: When small truths like that emerge from me, it's often a surprise. I'll sit back from the keyboard and think, "I wrote that?" It means I've entered what athletes sometimes call what The Zone: I'm writing so organically, so fluidly, that it's almost as if someone else's words are coming out of me. Those are the moments when characters do things you didn't plan on having them do. All it means, of course, is that you're way down there in the subbasement of your unconscious, but you could swear that the characters just walked off the page, down the street, and it's all you can to run and keep up with them. I had that experience as a fiction writer for the first time when writing about Fenno in Three Junes — who, by the way, was never intended to be more than the son of the intended protagonist, Paul McLeod. I guess Fenno was having none of that: he took center stage all on his own.

I hesitate to say this, but there are moments when, reading passages that I wrote a year and more ago, I honestly don't know how I wrote them. It's not just that I can't remember writing them; I can't imagine writing them. I can remember the effort that went into engineering certain plot twists, or creating certain settings, or doing the research on playing the cello or riding in a dogsled. But those passages you're referring to come out of some deep, dark well. They're a gift.