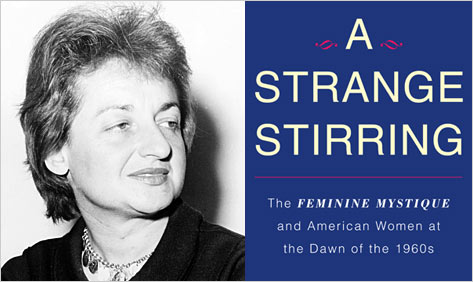 Since its publication in 1963, The Feminine Mystique, by Betty Friedan has been credited with launching the contemporarywomen's movement and decried for tearing housewives from home. In 2007, thebook even ended up on a conservative magazine's list of top-ten most harmfulbooks, just under Hitler's Mein Kampf.Love it or hate it, there's no question the bestseller was revelatory for acertain segment of women—largely white, educated, and middle-class—who foundthat a life limited to marriage and motherhood wasn't as fulfilling as societytold them it should be.
In AStrange Stirring, historian Stephanie Coontz examines how and why Friedan's bookinspired such a passionate response from so many. Excerpting from interviews,oral histories, and letters Friedan received, Coontz captures the book's impacton real women: "I didn't know why I was so unhappy until I read The Feminine Mystique. Then somethingclicked"; "It left me breathless"; "I got my mind back."
Moving beyond personal testimonials,Coontz makes abundant use of statistics to dissect the post-war period asexperienced by American women more broadly—including African-American andworking-class women, who were left out of Friedan's study. She also considersFriedan herself, critiquing her more exaggerated and oversimplified claims,praising her for those observations that remain relevant. Ever more central tothe workforce, women today must now face many of the economic pressures thatonce bore down almost solely on men. As Coontz's enlightening bookdemonstrates, Friedan's core message about the need to balance meaningful workand family life endures.
---
Erica Wetter is a writer living in Brooklyn. Her writing has appeared in Bookforum, Orion, Bust, and The Georgia Review, among other publications.