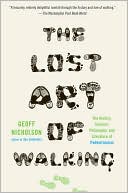 The German writer-scholar-adventurer Johann Gottfried Seume left Saxony for Sicily on this day in 1801, the nine-month hike described in Strolling to Syracuse (1803), one of the earliest and most famous books on the joys of walking. Neither a salvation-seeking pilgrim nor a gentleman on the Grand Tour, Seume headed over the Alps and down the length of Italy for the fun of it, his backpack stuffed with his favorite classical texts (one of which, he merrily reports, he threw to the wind page-by-page, as he finished reading it).

Seume's 4,000-mile stroll seems to be losing its historic place, as he doesn't get a mention in the recent books on the subject. Geoff Nicholson's The Lost Art of Walking (2008) and Rebecca Solnit's Wanderlust devote pages to Wordsworth and Goethe, better poets but hardly road warriors — unless we count as Coleridge did, estimating that Wordsworth racked up some 180,000 miles in a lifetime of walks.

And Seume deserves attention for other reasons, as he led an unusual life, one chapter in it perhaps an explanation for his interest in fresh air. At the age of thirteen he had been press-ganged into the Hessian army; when the Hessians were hired out to the British for use in the American Revolutionary War, young Seume was stuffed aboard a ship for Canada and the front lines:
On the English transporter we were pressed and packed like salted herrings. To save room, the deck, low as it was, had been partitioned off, and we lay instead of in hammocks, in these bunks, one row above the other. The deck was so low that a grown man could not stand upright, and the bunks not high enough to sit in. These bunks were intended to hold six men each but after four had entered, the remaining two could only find room by pressing in. The situation was, especially in warm weather, decidedly not cool: for one man to turn from one side to the other alone was absolutely impossible, and to lie on one's back was an equal impossibility. The straightest way and the hardest edge were necessary. After having roasted and sweated sufficiently on one side, the man who had the place to the extreme right would call: round about turn! and all would simultaneously turn to the other side….
Seume goes on to describe the rations: "Today bacon and peas — peas and bacon tomorrow," the biscuits full of worms and so hard they had to be smashed with cannonballs:
We were told (and not without some probability of truth) that these biscuits were French, and that the English, during the Seven Years' War had taken them from French ships. Since that time they had been stored in some magazine in Portsmouth and that they were now being used to feed the Germans who were to kill the French under Rochambeau and Lafayette in America — if God so wotted. But apparently God did not seem to fancy this idea much.
---
Daybook is contributed by Steve King, who teaches in the English Department of Memorial University in St. John's, Newfoundland. His literary daybook began as a radio series syndicated nationally in Canada. He can be found online at todayinliterature.com.