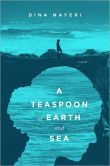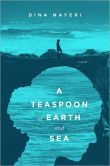 Dear Reader,
The Discover selection committee readers aren't the only ones raving about Dina Nayeri's debut, A Teaspoon of Earth and Sea, a Spring 2013 selection. Three of our notable Discover alumnae chime in:
"Charming and engrossing, A Teaspoon of Earth and Sea is a vivid and evocative story about the places we love, the places we long for—and the places we can only imagine."
–Karen Thompson Walker, The Age of Miracles
"A Teaspoon of Earth and Sea is pure magic: lyrical, captivating, funny and heartbreaking…Powerful storytelling kept me riveted from the first page, but this is also a keenly intelligent investigation into the nature of narrative, the kaleidoscope of stories, dreams, and memories that define us, and how we create our own pasts and futures."–Jean Kwok, author of Girl in Translation
"Lyric, intelligent, compassionate and often very funny, A Teaspoon of Earth and Sea reminds us again how storytelling can save our lives. A brilliant debut.—Michelle Huneven, author of Blame
While A Teaspoon of Earth and Sea is Nayeri's first novel, writing isn't her first career, as she explains in this guest post for the Discover blog.

A Voice Inside Nagged

A Guest Post by Dina Nayeri

After college, I moved to New York to work for a company that had been my dream all through my college years. McKinsey & Co was the kind of place that churned out future CEOs and politicians, the sort of people who could change the world, and often did. I was proud of myself, thinking, I've been handpicked from thousands of my classmates, and I should be grateful to be here. And it was an exhilarating experience. At twenty-two, I was sitting in board rooms with CEOs and they were listening to what I had to say, taking my charts and PowerPoint slides seriously. The company was a marvel. Papa McKinsey we called it, because the partners were always treating us to fancy dinners, or booking us spa treatments after a particularly grueling project, or paying for our errands to be done so we could focus on work. Looking back, it was an immigrant kid's dream, having someone come to the door and get all my dry-cleaning, or having an old white man ask me what his firm's strategic focus for the year should be. But I was unhappy. A voice inside nagged that this isn't the work I was born to do. And, besides (the voice said), who needs escargot in a world that has Frosted Flakes and Kit-Kats? Those were the discoveries that made my heart leap when I first arrived as a ten-year-old Iranian refugee to Oklahoma. What was worth killing myself for sixteen hours a day?

But at that point, all of my friends were enamored with Papa McKinsey's many promises, and I went along. One day I had finished a PowerPoint presentation and I took it to my manager. He spent an hour with it, then came back and said, "Dina, you're a great writer." And I said, "It's a PowerPoint. There's no writing." He explained that a presentation is a narrative, and that most analysts just summarize the content of each slide in the lead sentence without seeing the arc of it. But I was writing the sentences like the client had a story to tell. I found that an annoying compliment. I wanted him to say, "Dina, you're a great strategist, a great problem-solver and business woman!" Instead, he was saying I was a great storyteller, and that sounded lame to me back then.

Probably if I had listened hard enough, or been self-aware enough, I would have seen that as the first sign that I was in the wrong field. But I took the small compliment and I went about my day. For three years I did my best in the corporate world, worked hard to be ranked at the top of my class, and then I went to Harvard Business School, happy with the validation. It took two years in b-school to realize I was in the wrong place. I was miserable there. My classmates saw it. I wrote articles for The Harbus (and now I recognize those articles as the most enjoyable parts of my student experience). But I had sensibilities toward writing that I didn't see in others around me. Once I turned in an article and the editor made heavy edits (even changing one of my favorite jokes) and ran the story under my name without checking with me. I was livid. For fifteen minutes I yelled at her on the phone.

She said, "Dina, didn't you ever have your work edited at McKinsey? Relax. They're just words."

"They're my words," I said. I remember thinking that she had no sense of ownership for the work. It was just part of a package to sell to a client and forget.

I started writing every day in the Peet's Coffee near Harvard Square. I took some wrong turns with my writing, but luckily, I was at a big university, so I could enroll in fiction classes. I bought 40 new novels in one day. I took electives with undergraduates. And when McKinsey called to ask if I was coming back, I said no. I moved to Europe with my then-husband, who was deeply supportive of this new passion I had found. Finally, I felt completely ready to turn my back on my former life. But the uprooting of my early adulthood weren't over yet. In Europe I took another leap away from my old self, the next in a series of discoveries that would bring me here, to my life as a writer… At twenty-eight, I was about to rediscover Iran. — Dina Nayeri
Cheers, Miwa
---

Miwa Messer is the Director of the Barnes & Noble Discover Great New Writers program, which was established in 1990 to highlight works of exceptional literary quality that might otherwise be overlooked in a crowded book marketplace. Titles chosen for the program are handpicked by a select group of our booksellers four times a year. Click here for submission guidelines.