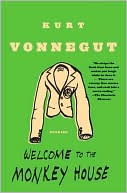 February 11: Kurt Vonnegut's first publication, a short story entitled "Reporton the Barnhouse Effect," was published in Collier's magazine on this day in 1950. Vonnegut was twenty-seven,disgusted with his job in the public relations department at General Electric,and still in shock from his experiences five years earlier in the Dresdenslaughterhouse. His story is based on the Professor Barnhouse's ability to usehis extraordinary mental powers of "dynamopsychism" to bring aboutworld peace:
Gentlemen,

As the first superweaponwith a conscience, I am removing myself from your national defense stockpile.Setting a new precedent in the behavior of ordnance, I have humane reasons forgoing off.

A. Barnhouse
After numerous story rejections from othermagazines, the Collier's acceptanceprompted another letter from Vonnegut, this a proud one to his father. Vonnegutlater described the letter as "no milestone in literature, but it looms likeStonehenge beside my own little footpath from birth to death":
Dear Pop-

I sold my first story to Collier's. Received my check ($750 minusa 10% agent's commission) yesterday noon. It now appears that two more of myworks have a good chance of being sold in the near future.

I think I'm on my way.I've deposited my first check in a savings account and, if I sell more, willcontinue to do so until I have the equivalent of one year's pay at G.E. Fourmore stories will do nicely, with cash to spare (something we never hadbefore). I will then quit this goddamn nightmare job, and never take another solong as I live, so help me God.

I'm happier than I'vebeen for a good many years.
Vonnegut'sfather made the letter into acommemorative plaque, which Vonnegut eventually hung on his workroom wall, areminder of his pledge and of his father's annotation of it:
Father glued a messagefrom himself on the back of that piece of masonite. It is a quotation from The Merchant of Venice in his own lovelyhand: "An oath, an oath, I have an oath in heaven: Shall I lay perjury onmy soul?"
---
Daybook is contributed by Steve King, who teaches in the English Department of Memorial University in St. John's, Newfoundland. His literary daybook began as a radio series syndicated nationally in Canada. He can be found online at todayinliterature.com.