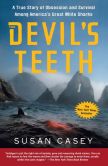 Few predators rival the shark in fascination. No matter how often we see them, or how much we read about them, humans are always eager to learn more, exhibiting a mixture of reverence, awe and fear.
All of which is to say, who can resist the notion of "Shark Week"? Here's a week's worth — seven vital volumes — of squaline lore, ranging from the scientific to the sensationally fantastic, to satisfy that obsession with what just might be out there in the waves.
NONFICTION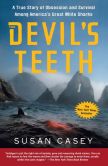 The Devil's Teeth
Embedding herself into the merciless environment of California's Farallon Islands, journalist Susan Casey shares the physical hardships and intellectual thrills of the resident biologists studying the pods of great white sharks that congregate in these waters. The exhiliration and danger of nature mingle with some curious lore regarding the human history of these nearby yet viscerally remote islands called the "Devil's Teeth."
Environmental journalist Juliet Eilperin spans the globe to chronicle how sharks and humans interact across a wide spectrum of cultures. Nor does she neglect some deep-sea forays to examine sharks in their person-free home range.
History is replete with forgotten incidents that once galvanized a nation, and Michael Capuzzo has found a dilly in the story of how a handful of 1916 shark attacks at the Jersey Shore worked up the media and the masses into a frenzy. Rich with period vibrancy, his account captures the beginning of the modern preoccupation with toothy death from beneath the waves.
Few disasters at sea echo with the pathos and horror evoked by the memory of the sinking of the USS Indianapolis in the South Pacific. Before rescue, some 900 survivors of the torpedoing were reduced to roughly 300 by the elements and by shark attacks, a tale told with harrowing vividness by Doug Stanton.
FICTION
R. Kikuo Johnson's brilliant and gorgeous graphic novel focuses on Hawaii, whose native culture remains more intimate with sharks than practically any other. Nanaue , our young hero born to the mating of a human woman with the deific Shark King, must chart his hybrid destiny between his two opposing heritages.
Ernest Hemingway's powerful brief tale of a humble, his prize catch, and its loss to an implacable force of nature in the form a hungry shark remains as close to a timeless universal fable as any twentieth-century work of art.
In forty years no one has yet topped Peter Benchley's captivating and hair-raising tale of the uber-shark that terrorized a small community, and the men and women arrayed against it. The book that launched an era of blockbuster summer films in the transformative hands of Steven Spielberg remains a masterful example of the art of the thriller in its own pulse-pounding right.
-PAUL DI FILIPPO