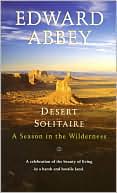 January 29: Edward Abbey, the American essayist, novelist, and environmentalist,was born on this day in 1927. Larry McMurtry's description of Abbey as"the Thoreau of the American West" alludes to the prickly manner inwhich Abbey spoke out on the disappearance and commercialization of publiclands, or on our dwindling concern over this process. There was no cabinreclusion in Abbey's life, but his time as a Park Ranger in what is now ArchesNational Park, near Moab, Utah, produced DesertSolitaire, often described as his Walden book:
There are several ways oflooking at Delicate Arch. Depending on your preconceptions you may see theeroded remnant of a sandstone fin, a giant engagement ring cemented in rock, abow-legged pair of petrified cowboy chaps, a triumphal arch for a procession ofangels, an illogical geological freak, a happening—a something that happenedand will never happen quite that way again, a frame more significant than itspicture, a simple monolith eaten away by weather and time and soon todisintegrate into a chaos of falling rock…. There are the inevitable piousMidwesterners who climb a mile and a half under the desert sun to view DelicateArch and find only God ("Goldangit Katherine, where's my light meter, thisglare is turrible"), and the equally inevitable students of geology wholook at the arch and see only Lyell and the uniformity of nature. You maytherefore find proof for or against His existence. Suit yourself…. IfDelicate Arch has any significance it lies, I will venture, in the power of theodd and unexpected to startle the senses and surprise the mind out of its rutsof habit, to compel us into a reawakened awareness of the wonderful—that whichis full of wonder.
Abbey took on pedestriantopics as well. The following is from "Walking," one of the essays inThe Journey Home:
Life is already too shortto waste on speed. I have a friend who's always in a hurry; he never getsanywhere. Walking makes the world much bigger and thus more interesting. Youhave time to observe the details. The utopian technologists foresee a futurefor us in which distance is annihilated. To be everywhere at once is to benowhere forever, if you ask me.
---
Daybook is contributed by Steve King, who teaches in the English Department of Memorial University in St. John's, Newfoundland. His literary daybook began as a radio series syndicated nationally in Canada. He can be found online at todayinliterature.com.